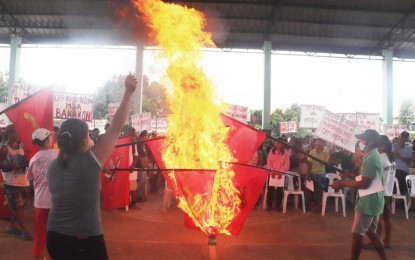 BACOLOD CITY – More residents of remote villages in Calatrava town, Negros Occidental province have rejected the presence of the Communist Party of the Philippines-New People's Army (CPP-NPA) while former militias surrendered their firearms during a peace rally held at the Barangay Marcelo covered court of the municipality on Monday.
The activity, which was facilitated by the Philippine Army's 79th Infantry Battalion (IB), was participated by about 400 individuals who displayed placards condemning the NPA atrocities, took their oath of allegiance to the government, and burned replica flags of the CPP-NPA.
In a statement on Tuesday, Lt. Col. J-jay Javines, commanding officer of 79IB, commended the resolve of the barangay officials and residents to withdraw support from the communist-terrorist group.
"Their willingness in condemning them shows the people's clamor and earnest desire to live in a place where there is peace and development. With their continued support to our campaign against insurgency, we can surely put an end to local armed conflict," he added.
Mariane Lumanog, executive assistant of Mayor Marilyn Era, administered the oath to those who expressed their allegiance to the Philippine government.
"We express our appreciation to the Philippine Army and the Philippine National Police (PNP) for actively performing their role in preserving the peace and order of Calatrava," the mayor said in her message delivered through Lumanog.
"Help the government in protecting your communities and cooperate with the authorities to be free from the influence of CPP-NPA," she told the residents.
During the rally, former NPA Yunit Militia members surrendered five firearms to the authorities in exchange for a cash reward from the municipal government and sacks of rice from the PNP.
Turned over were a caliber .9mm Ingram pistol with 30 rounds of live ammunition and two magazines as well as two .38-caliber revolvers and two .357-caliber handguns.
Last July 12, a group of residents from Barangays Minapasuk, Marcelo, Winaswasan, and Hilub-ang first denounced the CPP-NPA atrocities, following a two-day awareness seminar on the recruitment strategies and other unlawful activities of the communist-terrorist group in northern Negros.
This came after the July 6 clash between troops of 79IB and CPP-NPA rebels in Sitio Minatay, Barangay Marcelo, which led to the capture of Isabel Necesario, the deputy secretary of the dismantled Northern Negros Front.
In August this year, the group of NPA hitman Roger Fabillar, also known as "Arnel Tapang", was tagged in the killing of three locals, including village chief Benjamin Javoc of Barangay Lalong, who was gunned down outside his residence on Aug. 26; and Renato Estrebillo on Aug. 12 and Rodel Nobleza on Aug. 7, both in Barangay Marcelo. (PNA)