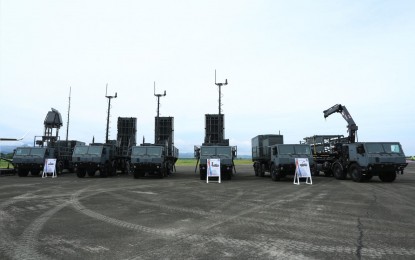 MANILA – Aside from protecting critical defense installations and assets, the Philippine Air Force's (PAF) newly acquired ground-based air defense system (GBADS) is also projected to defend the country's so-called "center of gravity".
"The GBADS is projected not only to protect vital military installations and various ground and air assets but is also intended, when necessary, to secure our nation's centers of gravity, critical government utilities and other essential facilities and assets of national importance," PAF spokesperson Col. Ma. Consuelo Castillo said in a message to the Philippine News Agency (PNA) Wednesday when asked how the system would help improve the Air Force's defensive capabilities.
"Center of gravity" may either refer to a country's densely populated areas or key political and business infrastructures.
She also said having the GBADS in the PAF inventory gives the service a "layered defense" against intruding and hostile aircraft.
Castillo also said the GBAD batteries that are in service are the first modern surface-to-air missile defense system of the Armed Forces of the Philippines (AFP).
The GBADS will also be the primary weapon of the PAF's 960th Air and Missile Defense Group.
The PAF formally accepted the GBADS during rites at the Basa Air Base, Floridablanca, Pampanga on Tuesday, which was witnessed by President Ferdinand R. Marcos Jr.
"The newly acquired GBADS or specifically called SPYDER Philippines Air Defense System (SPADS) is a mobile air and missile defense system designed to protect critical installations, land-based fixed assets, mobile platforms, and friendly forces from aerial threats, such as combat aircraft, attack helicopters, unmanned air vehicles, incoming missiles, guided munition, and rockets. In certain cases, it may also be used to neutralize surveillance threats," Castillo said.
Also known as SPADS, it is classified as a "medium-range air defense missile system" and is capable of low-level, quick-reaction interception.
The GBADS is also the PAF's "secondary air defense cover after manned fighter aircraft" with the role currently being undertaken by the Air Force's FA-50PH fleet.
The Philippines is one of two countries in the Southeast Asian region operating this advanced missile system. The other is Singapore.
Castillo also said the GBADS is an acquisition project under Horizon 2 of the AFP Modernization Program.
The first two GBAD batteries were delivered on September 24 and 29, respectively, while the third battery is expected to be delivered on May 24, 2024.
A typical PAF GBADS battery consists of a command-and-control unit, three main firing units equipped with four missile launchers, along with two support vehicles for field service and munition resupply.
The GBADS contract is worth PHP6,846,750,000 and includes integrated logistics support, a simulator, a missile repair facility, and air defense systems missile training for personnel.
The Department of National Defense signed the GBADS contract with the Israel Ministry of Defense and Rafael Advanced Defense System on Sept. 23, 2019. (PNA)