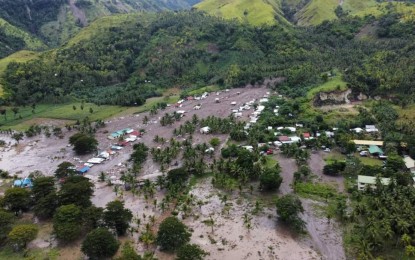 MANILA – The Philippine Space Agency (PhilSA) on Wednesday conducted a workshop to help journalists interpret flood maps and satellite images in light of the widespread floodings during the onslaught of Severe Tropical Storm Paeng.
At a media briefing and workshop, PhilSA public relations chief Tricia Zafra said the workshop aims to familiarize print, broadcast and online journalists with images being sent to them by PhilSA's Disaster Risk Reduction Management team.
During the workshop, Roel dela Cruz, Space Data Mobilization and Applications Division (SDMAD) specialist under PhilSA's Space Information and Infrastructure Bureau (SIIB), discussed different flood maps in the country and satellite data that are available to the public.
Images of houses, ricefields and other agricultural crops affected by floods can be produced using satellite data whenever a satellite flies by a specific area. The Philippines gets its satellite images though a subscription with the Sentinel-1 satellite of the European Union, NovaSAR and Iceye.
It can be noted that from Oct. 28 to Nov. 6, PhilSA's DRRM and the Department of Science and Technology-Advanced Science and Technology Institute (DOST-ASTI) released maps that showed the extent of floodings in Pampanga, Capiz, Maguindanao and Cotabato, among others, during Paeng's onslaught last month.
Aside from posting these images on its website for public access, the PhilSA also gives mandated agencies such as the National Disaster Risk Reduction and Management Council, Department of the Interior and Local Government, Department of Social Welfare and Development, and National Economic and Development Authority access to the images.
"Space data provide valuable information for disaster responders, policymakers, and vulnerable communities to better adapt, prepare, and come up with more effective and innovative efforts to mitigate the impacts of climate change," SIIB Director Ariel Blanco said.
"Using information from space, especially with the help of the media, we can prevent the loss of lives and livelihoods," Blanco added.
Under Republic Act 11363 or the "Philippine Space Act," part of PhilSA's mandate is to provide an improved public access and resource sharing by assisting the government and the private sector in delivering public service through the use of space assets.
The PhilSA is also mandated to develop space education and public awareness through education and capacity building. (PNA)