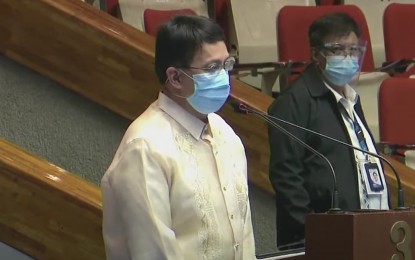 MANILA – Northern Samar Rep. Paul Daza on Wednesday urged the House of Representatives to look into the budget allocation for the sound operation of Small Power Utilities Group (SPUG) to maintain power supply to missionary areas.
In a privilege speech during the plenary session, Daza said the National Power Corporation (NPC) failed to provide the guaranteed fuel subsidies for the diesel-powered generators of SPUG plants after the state-owned firm can no longer acquire any fuel from suppliers because of its substantial unpaid debt running to billions of pesos.
He noted that the "missionary areas" that SPUG generation companies (gencos) cover can be found in around 34 provinces, including Catanduanes, Marinduque, Masbate, Mindoro, Palawan, and parts of Northern Samar.
"If the power plants servicing these areas are not provided with a steady, reliable supply of diesel fuel, then approximately 900,000 Filipino households may be plunged into total darkness by July," he said.
Under Republic Act No. 9136 or the Electric Power Industry Reform Act (EPIRA) in 2001, SPUG gencos are third-party power plant operators put into service by the NPC for Missionary Electrification Areas, which are areas not connected to the country's major power grids.
"Let us be reminded of who and what gets sidelined when power supply comes up short: students, employees, economic opportunities, and the modern quality of living of our fellow Filipinos," Daza said.
Daza said the NPC received budget cuts for its 2023 proposal, from the initially requested PHP45 billion slashed down to PHP32 billion by the Department of Budget and Management (DBM).
The NPC warned that this budget cut would further aggravate the company's unpaid debt situation with fuel suppliers, and lead to power plant closures.
Citing the DBM, Daza said the NPC's Corporate Operating Budget was not reduced, and that the subsidy portion in their budget was actually raised from PHP3.8 billion to PHP5.07 billion.
The DBM also purportedly approved the release of a PHP2.9 billion Special Allotment Release Order to NPC, on top of an existing PHP1.02 billion issued for SPUG gencos in particular, he added.
"This representation believes that to move forward, we must request the NPC for a detailed breakdown of their SPUG genco funding requirements and transactions. Now, if there is indeed appropriate funding for SPUG gencos, then something in the budget pipeline is broken, because clearly, Mr. Speaker, wala o kulang-kulang po ang nakakarating sa fuel suppliers ng mga SPUG gencos natin (the funds reaching the fuel suppliers for our SPUG gencos are not enough or close to nothing)," he said. (PNA)