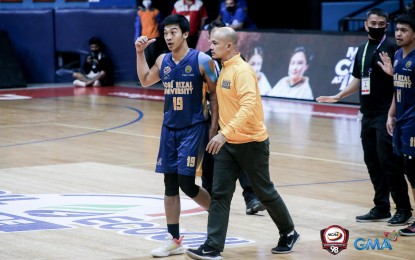 MANILA – The National Collegiate Athletic Association (NCAA) handed Jose Rizal University (JRU) forward John Amores a heavy penalty for his actions late into the team's Tuesday game against the College of St. Benilde (CSB).
The league, through a statement from Season 98 president Estefanio Boquiron, slapped the Heavy Bomber with an indefinite ban for a bunch of violation highlighted by punching four Blazers, namely Mark Songco, Jimboy Pasturan, Taine Davis, and Migs Oczon, out of frustration.
Amores also violated some other rules like intentionally bumping and pointing a finger at a referee, disrespecting court officials including JRU's ManCom representative Paul Supan, and charging through the CSB as well as making provocative gestures to spark a brawl.
Amores first entangled with CJ Flores while going for a rebound with 3:22 left in the game, but while play was stopped, he apparently fumed at the referees.
In an interview with Andrei Felix over CNN Philippines Sports Desk on Wednesday, Blazer coach Charles Tiu said Amores kicked Flores, which prompted the officiating crew to take action.
Amores was then seen talking trash to a Blazer fan before he ran through him at the back of the CSB bench.
While some Blazers restrained him, Amores landed strikes on Songco, Pasturan, Davis, and Oczon.
Amores was quickly escorted back to his locker room to pacify matters.
CSB, up 71-51 before the commotion, was declared the winner after the game was called off.
Pasturan and Davis were knocked out, but according to Tiu, they were quickly discharged from the hospital at around 3 a.m. earlier Wednesday.
Songco, meanwhile, was not spared from getting sanctions as he was given a ban for two games along with Flores for their involvement in the brawl.
Another JRU player, William Sy, was slapped a three-game suspension for two violations, joining a bench clearing incident and committing disrespectful acts before ManCom members while they were trying to restore order.
Ryan Arenal was also banned for two games for the same disrespectful acts.
For their own role in the bench clearing fracas, one-game suspensions were each meted to Blazer Ladis Lepalam and Heavy Bombers Jason Tan, Joshua Guiab, Jason Celis, Marwin Dionisio, Jan Abaoag, Jonathan Medina, Karl De Jesus, and Christian Gonzales.
With the development, JRU will only have six players available for its Friday game against San Sebastian at the FilOil EcoOil Centre in San Juan City.
Legal actions waiting?
However, it seems like the indefinite ban could not be the only penalty Amores will get.
Tiu revealed that at least some CSB players are considering legal actions on the embattled third-year JRU player.
"One of the players told me their parents are telling them that they should file charges. Syempre, if you're a parent at nakita niyong walang ginagawa yung anak niyo at matamaan siya nang ganun (Of course, if you're a parent and you saw your son not doing anything but were punched like that), how would you feel? That's not exactly nice," Tiu said. "I believe they will, but I will leave it up to the higher-ups and the players."
He said it would not be surprising if legal actions would be made as what Amores did on Tuesday was a repeat offense.
"It would be more tolerable if it was an isolated incident, but this has happened in the past. So I think something has to be done," Tiu said.
During a preseason game last July, Amores also threw a punch at University of the Philippines' Mark Belmonte .
UP president Renan Dalisay said the Fighting Maroons are mulling legal actions of their own against Amores as he thought the Heavy Bombers was slow to act on the matter.
"The unfortunate incident [yesterday] afternoon where some CSB players were seriously injured could have been avoided if the school administration and the coaching staff of JRU acted swiftly on the matter. We expected JRU to take proactive steps. But since nothing came out of our efforts with the school's administration, we were morally bound to file a criminal case against JRU player John Amores," Dalisay said in a statement over Facebook, even showing copies of the letter they sent to JRU and the university's response.
Amores almost came into blows as well with Letran's Kobe Monje during their first-round meeting this year won by Letran on Sept. 14. (PNA)