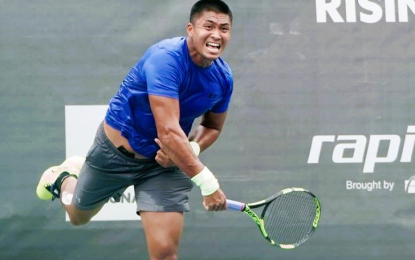 MANILA – Fourth seeds Ruben Gonzales of the Philippines and Christopher Rungkat of Indonesia won their opening-round doubles match at the Unicharm Trophy Ehime International Tennis Open in Matsuyama, Japan on Wednesday.
The US-based Gonzales and Rungkat rallied past Rinky Hijikata of Australia and Yu Hsiou Hsu of Chinese Taipei, 6-4, 3-6, 11-9, to reach the quarterfinal round where they will face Toshihide Matsui and Kaito Uesugi of Japan.
Matsui and Uesugi advanced after posting a 6-2, 6-4 victory over Frederico Ferreira Silva of Portugal and Hiroki Moriya of Japan.
Third seeds Andrew Harris and John Patrick Smith of Australia also moved to the next round following their 6-2, 6-1 triumph over Nicholas David Ionel and Filip Cristian Jianu of Romania.
Harris and Smith will be up against Nino Serdarusic of Croatia and Damir Dzumhur of Bosnia and Herzegovina, who defeated Francis Casey Alcantara of the Philippines and Nam Hoang Ly of Vietnam, 6-4, 5-7, 10-7.
Other matches saw top seeds Arjun Kadhe and Ramkumar Ramanathan of India and second seeds Victor Vlad Cornea of Romania and Zdenek Kolar of Czech Republic bowing out of the competition.
Kadhe and Ramanathan were eliminated by Shintaro Mochizuku and Rio Noguchi of Japan, 0-6, 3-6.
Mochizuku and Noguchi will meet wild cards Sho Katayama and Takeru Yuzuki of Japan, who prevailed over Yunseong Chung of South Korea and Yuta Shimizu of Japan, 6-4, 6-2.
Dane Sweeny and Li Tu of Australia scored a 3-6, 6-4, 12-10 win over Cornea and Kolar to arrange a quarterfinal showdown with Ji Sung Nam and Min Kyu Song of South Korea, who won over wild cards Yuhei Kono and Yusuke Kusuhara of Japan, 6-3, 6-4.
The world No. 142 Gonzales teamed up with Victor Vlad Cornea of Romania to win the Yokohama Keio Challenger last week. It was his third title this year.
Rungkat is currently No. 184 in the world. He won the mixed doubles gold medal with Aldila Sutjiadi at the 2022 Vietnam SEA Games. (PNA)