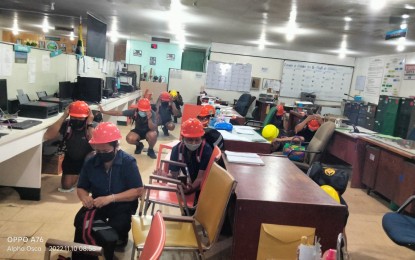 MANILA – The Office of Civil Defense (OCD) on Thursday thanked the public's continued support to disaster preparedness initiatives, stressing that it is the key to improving response and saving more lives during calamities such as earthquakes.
"Thank you for all your support. With your efforts, the public has become more aware of the dangers posed by earthquakes and this allowed us to further strengthened our preparedness measures)," OCD administrator Undersecretary Raymundo Ferrer said in his speech during this year's fourth quarter Nationwide Simultaneous Earthquake Drill (NSED) at the Fisherman's Wharf in Parañaque City.
Ferrer, who is also National Disaster Risk Reduction and Management Council (NDRRMC) executive director, also thanked the city's residents and participants from other parts of the country for joining the drill.
It includes participants from the Regional DRRM Council, Regional OCD, national government agencies, local government units, state universities and schools, those from the private sector and partner organizations of the NDRRMC, and those who monitored the event in various social media platforms.
"Pinapasalamatan ko ang magiting na Punong Lungsod ng Parañaque, Mayor Eric Olivarez at ang kanyang buong sanggunian para sa mainit na pagtanggap at support sa ating ika-apat na NSED para sa taong 2022 (I express my thanks to Mayor Eric Olivarez of Parañaque and his entire council for their warm reception and support of our fourth NSED for this year)," he added.
The OCD chief also called on the public to continuously participate in preparedness training.
Thursday's earthquake drill focused on an 8.3 magnitude earthquake with a tsunami scenario in the coastal communities.
"By simulating a tsunami scenario based on a hypothetical magnitude 8.3 earthquake, we shall be able to assess our preparedness and capability to mount a coordinated and effective response to minimize potential losses in lives and properties in such an eventuality," Parañaque City Mayor Eric Olivarez said.
A full-scale exercise was conducted, testing Parañaque City's contingency plan for tsunami and evacuation procedures in the local community and services specifically for the fisherfolk and vulnerable groups.
The combined efforts for water search-and-rescue and air rescue capabilities of the Philippine National Police, the Philippine Coast Guard and the Philippine Air Force were also showcased.
For this quarter's NSED, the NDRRMC espoused natural conservation, specifically the nurturing of mangroves, as one of the means to protect coastal communities.
Parañaque City has a natural protected area that serves as a sanctuary for various species of migratory and endemic birds.
The NDRRMC also called on all local government units to follow Parañaque's example of taking care of the mangroves as a mutually beneficial endeavor for both nature and the coastal communities.
The fourth quarter NSED is the second face-to-face earthquake drill conducted by the NDRRMC since the Covid-19 pandemic started in March 2020.
The first face-to-face drill was held during the third quarter NSED on Sept. 8 in Makati City in partnership with the Makati; local government and Ayala Corporation.
The adoption of the earthquake and tsunami scenario is in support of the World Tsunami Awareness Day last Nov. 5.
PAF joins quake drill
The Philippine Air Force (PAF) also participated in Thursday's fourth quarter NSED.
"By the sound of the alarm signaling the start of the simulated drill, the men and women of the PAF immediately performed 'Duck, Cover, and Hold'. This is in line with the 4th quarter NSED spearheaded by the NDRRMC on November 10, 2022," PAF spokesperson Col. Ma. Consuelo Castillo said in a statement.
She added that PAF personnel then proceeded to their designated evacuation sites for an information, education, and communication campaign on earthquake and other disaster awareness and preparedness.
Meanwhile, a medical team from the 505th Search and Rescue Group onboard a PAF Sikorsky helicopter flew over Parañaque City to do a simulated aerial rescue of patients.
The aerial evacuation was followed by a simulated aerial rapid damage assessment and needs analysis.
The NSED activity was facilitated by the Capacity-Building and Training Service of the OCD. (PNA)