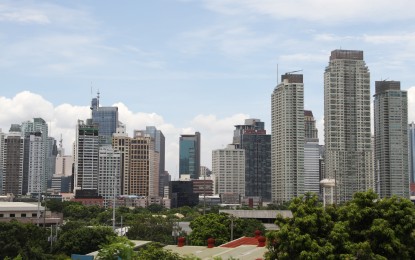 MANILA – The Philippine economy grew at a faster rate in the third quarter of the year at 7.6 percent, higher than the revised gross domestic product (GDP) growth in the second quarter at 7.5 percent, the Philippine Statistics Authority (PSA) reported Thursday.
In a press conference, PSA Undersecretary Dennis Mapa said this is the sixth consecutive quarter that the economy recorded expansion.
The country's GDP growth from July to September 2022 is also higher than the 7-percent increase in the same period in 2021.
"The third quarter's GDP exceeded the median analyst forecast of 6.3 percent," National Economic and Development Authority (NEDA) Secretary Arsenio Balisacan said.
Balisacan said the average GDP growth for the first nine months of the year stood at 7.7 percent.
"With this, we are on track to achieving the government's growth target of 6.5 to 7.5 percent for 2022. Given the latest GDP outturn, our economy needs to grow by 3.3 to 6.9 percent in the fourth quarter," he said.
The PSA reported that all major industries improved their performance in the third quarter of 2022 compared to the same period last year, with agriculture, forestry and fishing growing by 2.2 percent; industry, rose to 5.8 percent; and services, up by 9.1 percent.
Services contributed 5.8 percentage points to the 7.6 percent GDP growth in the third quarter, followed by industry which shared 1.6 percentage points, and agriculture, forestry and fishing at 0.2 percentage points.
By industry, wholesale and retail trade, repair of motor vehicles and motorcycles contributed 1.9 percentage points to the GDP growth in July to September period, followed by financial and insurance services at 0.77 percentage points and construction at 0.76 percentage points.
Compared to last year, the sector of accommodation and food service activities expanded by 40.6 percent, which is the largest across industries. Transportation and storage also improved by 24.3 percent and construction increased by 12.2 percent.
"This economic performance largely benefitted from the further easing of mobility, including the resumption of face-to-face classes, which boosted consumption among Filipinos," Balisacan said.
The NEDA chief added that the relaxation of borders and simplifying travel protocols supported the recovery and growth of local tourism and other sectors.
In terms of spending, household final consumption expenditure is the largest contributor to GDP in the previous quarter at 5.9 percentage points, exceeding the share of construction at 1.5 percent percentage points, durable equipment at 0.7 percentage points, and government final consumption expenditure at 0.1 percentage points.
"This turnout signifies that Filipino families are close to returning to pre-pandemic life, as more people visit restaurants and hotels and engage in recreational activities within the country," Balisacan said.
He reiterated that the Marcos administration will continue to address economic challenges faced by Filipinos, especially the faster increase in prices of goods and services as well as poverty. (PNA)