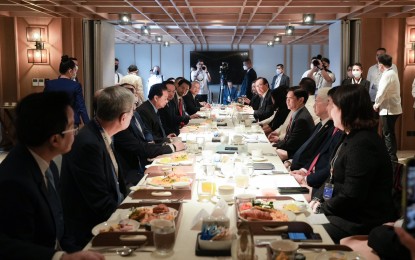 MANILA – The Philippines and Cambodia on Thursday agreed to enhance collaboration in digitization, low-cost housing, and other fields as it would help in efforts to accelerate post-pandemic economic recovery.
During the roundtable meeting with Cambodian business leaders in Phnom Penh, President Ferdinand R. Marcos Jr. touted the country's improved investment climate after gradually easing Covid-19 pandemic restrictions.
He underscored the need for digitization to ensure ease of doing business, particularly addressing red tape in the bureaucracy.
"Once we can digitalize and digitize our operations, the bureaucracy, the national government, and the local government, then things will be much, much easier," he said.
Marcos also said his administration is keen on developing the domestic market considering its potential for both foreign and local investors.
"We are encouraging not only foreign investment. We are also encouraging local investment because we feel there is potential in the market," added.
He told Cambodian businessmen that he wanted to "build up" the Philippine manufacturing sector since it is currently "skewed to the service sector."
"We are trying to build up the manufacturing side of the economy and that is why capital-intensive investment will be very, very important for us to be able to do that," he said.
More low-cost housing
Meanwhile, Marcos also presented before Cambodian business leaders the Philippines' long-existing problem of addressing its backlog in providing housing for the poor.
To address this, he said his administration is pushing for an aggressive and "ambitious" housing program that aims to build one million housing units per year or six million by the end of his term.
To date, "Pambansang Pabahay para sa Pilipino" construction has already begun in various locations across the country, according to the Department of Human Settlements and Urban Development (DHSUD).
"We are aiming for one million homes, one million low-cost and socialized homes a year. It is an ambitious number but we will try very, very hard," he said.
He said it was not just enough to simply build a house but, "build a community."
"...There has to be schools nearby, work cannot be farther, commute cannot be more than one hour, there has to be a marketplace, all of this. The transportation is easy to get to," he added,
Apart from digitization and low-cost housing, Marcos and Cambodian CEOs also agreed to strengthen ties in agriculture, particularly mechanization and food processing, micro, small and medium enterprises (MSMEs); and energy.
Collaboration in elderly medical care was also identified, particularly the hiring of Filipino nurses as well as tie-ups on garments and traveling bag manufacturing.
Backup
In the Senate, Deputy Minority Leader Risa Hontiveros defended the DHSUD's PHP3.9-billion budget for 2023 and reiterated a separate PHP36-billion interest support for the national housing program.
Senate Deputy Majority Leader JV Ejercito, chair of the Committee on Urban Planning, Housing and Resettlement, manifested his support by doing away with questions, saying "there is nothing more important and fulfilling than for us to see that the DHSUD be successful in the coming years."
With the backlog at more than 6.5 million units, Ejercito stressed the need to think outside the box.
"Every year, the housing program receives one of the lowest sa budget natin (in our budget) and we're hoping that next year's budget under the new administration, can hopefully be increased. The success of DHSUD lies in the financing side and collection. Our aim, dapat wala nang tawaging squatter sa sariling bayan (there should be no more squatters)," he said on Thursday.
Senate Majority Floor Leader Joel Villanueva commended the administration for appointing a Secretary who is considered an expert in housing issues.
"Secretary (Jose Rizalino) Acuzar, we are supporting his vision and we are looking forward to his confirmation with the Commission on Appointments," Villanueva said.
Acuzar said he is "deeply grateful" for the senators' support and "humbled by their trust and confidence in me and our bold plans to ensure that our President's vision to ensure that every Filipino family will have a house of their own becomes a reality."
"As long as we all work together, this is truly possible," Acuzar said in a statement.
Marcos is in Cambodia for the 40th and 41st Association of Southeast Asian Nations (ASEAN) Summit and Related Summits that will end Sunday.
He will also be having bilateral meetings with some of his counterparts in ASEAN and ASEAN's dialogue partners. (With a report from Zaldy De Layola/PNA)