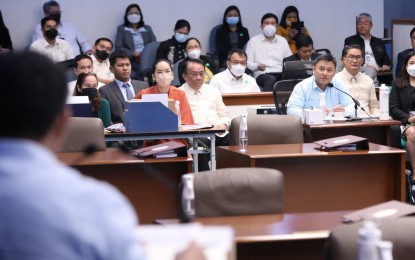 MANILA – The Senate approved Thursday the PHP8.9 billion proposed budget of the Office of the President and its attached offices for 2023, which includes the PHP4.5 billion in confidential and intelligence funds (CIFs).
After two hours of plenary debates, Senator Sonny Angara, sponsor of the 2023 General Appropriations Act and chairman of the Senate Committee on Finance, was able to defend OP's CIFs, which were 65 percent of its Maintenance and Other Operating Expenses (MOOE).
President Ferdinand R. Marcos Jr. had asked for the same amount in CIFs as his predecessor, former President Rodrigo Duterte, Angara said.
Defending the President's CIF, Angara said there is a need for the chief executive to have his share of confidential and intelligence funds because he is an "information gatherer" and not a mere "user of funds".
Senate Minority Leader Aquilino Pimentel III earlier questioned the P2.25 billion in confidential and another P2.25 billion in intelligence funds to be allocated to the Office of the President and its attached agencies.
Pimentel said he will propose an amendment that will cut the OP's budget for CIF, but admitted that this will only be ruled out.
"Siguro (Maybe) in due time, I will propose an amendment to reduce the CIF being given to the Office of the President," Pimentel said, adding that the usual issue against confidential and intelligence funds is the lack of transparency.
The opposition senator asked if it would be possible to receive periodic accomplishment reports from agencies, including the OP, receiving these controversial funds, instead of submitting liquidation reports.
Angara said Pimentel's idea for Congress to seek periodic accomplishment reports from the executive department would not cause any problem since the two branches of government have a healthy relationship. (PNA)