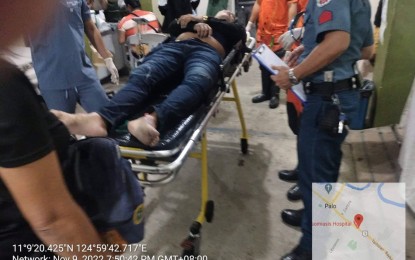 TACLOBAN CITY – A police officer died on Wednesday night after his motorcycle hit an electric post that has not been moved since road-widening activities were done along a primary highway in Sta. Fe, Leyte.
Police Staff Sgt. Gary Cabujoc was heading to the regional police office in Palo town from his hometown in Barugo when the accident happened in Pilit village in Sta. Fe town at about 8 p.m.
The Philippine National Police (PNP) said in its report, which was shared with journalists on Thursday, that Cabujoc hit the pole due to poor visibility and a lack of warning signs in the area.
Cabujoc fell to the creek and was rushed to a nearby hospital but was declared dead on arrival.
The PNP admitted that there have been many reports of road accidents due to the unmoved electric posts.
Leyte III Electric Cooperative (EC) general manager Allan Laniba, in an interview, called for the implementation of the Department of Energy – Department of Public Works and Highways (DPWH) joint circular signed in 2017, prescribing the uniform guidelines and procedures for the relocation of EC distribution/sub-transmission lines, and the proper payment of the costs involved.
"There should be a just compensation for every pole to be removed. We discussed everything (with) DPWH and we're still waiting for funds in the past four years. I don't understand why the DPWH and contractors widened the road with the electric poles still there. This is a nationwide concern," said Laniba, president of the National Association of General Managers of Electric Cooperatives.
DPWH regional information officer Cressida Paula Mangaporo said they have been making regular follow-ups with their main office to finance the relocation of electric poles away from the widened road.
"We have been sending request and reiteration letters to our central office to download funds for poles relocation. For Leyte 1st District, which covers the town of Sta. Fe, our central office will download PHP39 million next year," Mangaporo said in a phone interview.
In Leyte's first congressional district alone, 535 electric poles should be removed from widened roads, according to the DPWH. (PNA)