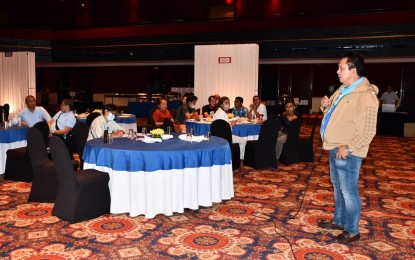 DUMAGUETE CITY – Negros Oriental Governor Roel Degamo is prioritizing health care and other related sectors in the province's three-year plan.
In his talk at the opening of the province's Executive-Legislative Agenda planning workshop on Wednesday, Degamo spoke of his flagship program, HELP, according to a media release from the Capitol provincial information office issued Thursday.
HELP stands for Health, Education, Livelihood, Programs, and Projects for Peace and Development, which will be the Degamo administration's priorities.
The health sector plans include boosting the workforce of the Negros Oriental Provincial Hospital.
The governor "intends to do this by providing scholarship programs for nurses and other medical professionals, aside from the current scholarship for doctors," the release said.
Highlighting the need to further bring medical services closer to the people, particularly those in remote areas, Degamo plans to build a district hospital in Barangay Dawis, Bayawan City.
He also hopes to complete the construction of a community hospital in Tamlang Valley in the south, which straddles the boundaries of Sta. Catalina, Pamplona, and Valencia.
Degamo called on the health sector to draw up initiatives that would improve medical services, such as interventions and strategies, to prevent diseases more than just providing curative care.
Meanwhile, the governor assured full support for the education sector by allocating funds to improve school buildings and address the needs of learners.
He also plans to give a one-year PHP5.5-million budget to address sustainability concerns for livelihood programs.
He likewise called on the agricultural sector to increase fish and crops, particularly rice and corn production to ensure food security in the province.
On livelihood, he said he would help people's organizations and aid programs of the Technical Education and Skills Development Authority (TESDA).
Regarding safety concerns, Degamo said he would continue to coordinate with the armed forces to resolve the communist insurgency. (PNA)