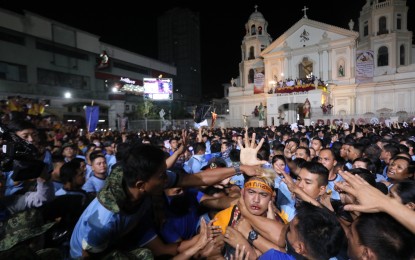 MANILA – For the third consecutive year, the Quiapo Church is letting go of the traditional procession of the image of the Black Nazarene from Quirino Grandstand to the basilica for the celebration of the 'Traslacion' or the annual feast on Jan. 9, 2023.
In a radio interview Thursday, Fr. Earl Allyson Valdez, attached priest of Quiapo Church, said this is pursuant to the health and safety protocols implemented by the government even as the country's coronavirus situation continues to improve.
"Although there will be no traditional procession, all our usual activities related to the festival of the Black Nazarene will continue," he said in a radio interview.
The Catholic priest added that they will no longer call the traditional kissing of the image as "pahalik" but "pagbibigay pugay" (paying tribute) since the devotees can approach and touch the Black Nazarene's image at the Quirino Grandstand.
"Our evening programs will also continue and what we call the misa mayor or misa ng fiesta (Mass of the feast) at 12:00 am on January 9th which will be presided over by our beloved Archbishop of Manila Jose Cardinal Advincula," the Quiapo Church official added.
Valdez added that hourly Masses at the church will be held on the feast day.
He reminded that those who will attend Masses inside the Church have to follow the minimum health standards by wearing face masks and practicing social distancing.
"The routine during the pandemic will also continue. If you can't go to the church, there will be Novenario Masses in different Churches in Metro Manila and different places in Luzon. And it is also our goal that if there is no traslacion, the Nazarene himself will go to their respective places and churches," Valdez said.
At the same time, the Quiapo priest added that they are coordinating with authorities and the City Government of Manila regarding the crowd that are expected to flock the activities, particularly the feast day Mass at the Quirino Grandstand.
"We worked with the local government and the police for crowd control," he said.
The last time the traditional procession for the feast of the Black Nazarene was in 2020, which lasted for 16 hours and 35 minutes and drew a crowd of 3.3 million. (PNA)