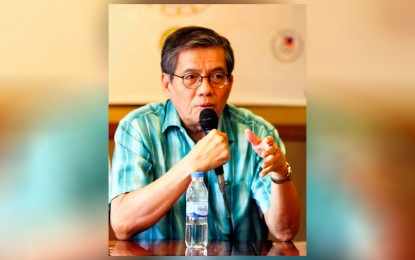 MANILA – The Philippine Sportswriters Association (PSA) on Thursday announced the list of achievers for the month of October led by Asia's first chess grandmaster (GM) Eugene Torre.
Torre, 71, was formally inducted into the World Chess Hall of Fame in St. Louis, Missouri, USA last year together with Woman Grandmaster Judit Polgar of Hungary and GM Miguel Najorf of Poland.
Torre was the first to beat Russian Anatoly Karpov, who was then the reigning world champion, in 1976, and the first to reach the Candidates stage of the World Championship (1982-1983). He has competed in the World Chess Olympiad 23 times.
Efren Bagamasbad, a 61-year-old chess player from Camarines Norte, was also honored for winning the Asian Seniors Championship in Auckland, New Zealand. He registered 7.5 points on six victories and three draws to earn an outright International Master title and the first of three norms to become a GM.
The other PSA Monthly Achievers were from weightlifting, pencak silat, sambo and tennis.
Rose Jean Ramos, 17, of Zamboanga City lifted 85-kg in the clean and jerk of the women's 45-kg category to win the bronze medal at the 2022 Asian Championships in Manama, Bahrain.
The pencak silat team collected one gold, two silver and eight bronze medals at the Asian Pencak Silat Championships in Srinagar, India.
Siblings Alfau Jan Abad and Almohaidib Abad of General Santos City, captured the gold medal in the men's double artistic (Seni Ganda Putra) category. Alfau Jan also won a bronze in the solo artistic (Seni Bebas Putra) category.
Those who bagged the silver medals were Edmar Tacuel (men's single artistic – Seni Tunggal Putra) and Jessa de la Cruz, Ziara Mari Oquindo and Franchette Anne Tolentino (women's trio artistic – Seni Regu Putri) and bronze medal winners Jaciren Abad (men's Class C 55-60kg), Mark James Lacao (men's Class D 60-65kg), Ian Christopher Calo (men's Class E 65-70kg), Alvin Campos (men's Class F 70-75kg), Joash Mariño Cantoria (men's Class G 75-80kg), Angeline Viriña (women's Class A 45-50kg) and Ziara Mari Oquindo (women's Class B 50-55kg) in the Tanding (sparring) category.
The Philippines secured a gold medal at the World Martial Arts Masterships Sambo Online Tournament coming from Aumeagel Princess Cortez, Mylene Matias, Troy Anthony Estrella and Mark Striegl.
Tennis players Treat Huey and Johnny Arcilla hugged the limelight following their successful campaign. The US-based Huey pocketed the men's doubles title in the Hamburg Challenger in Germany with Armenian partner Max Schnur while Arcilla, who hails from Butuan City in Agusan del Norte, won a record 10th men's singles title at the Philippine Columbian Association Open in Paco, Manila. (PNA)