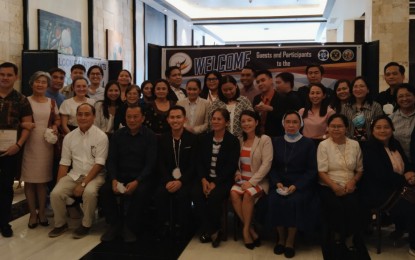 TACLOBAN CITY – The Eastern Visayas Regional Health Research and Development Consortium (EVHRDC) has picked three studies related to prenatal lifestyle, remote learning by nursing students during the pandemic, and infection control in government hospitals as the region's best health research studies.
During the conclusion of the regional health research symposium on Thursday, the three research studies were picked as winners in different categories that would represent the region in the National Health Research Award.
The winner in the oral research presentation (professional category) was the study on the correlation between the prenatal lifestyle among teenage pregnant women, and their obstetrical and neonatal outcome by Ryan Cris Jordan, medical specialist of Basey District Hospital in Basey, Samar.
For the student category, the winners were six students of the University of the Philippines Manila's School of Health Sciences who studied the perceived psychological distress and academic burnout among nursing students during emergency remote learning during the pandemic.
Adjudged as best for the poster exhibit contest was the study on the compliance with national standards in infection control of government and private hospitals in the region by Eduard Paul Paca and Klint Carl Noveda of the Department of Health (DOH) Eastern Visayas Center for Health Development.
Under the poster exhibit contest, the contestants also exhibited the highlight of the study in colored presentation.
Winners will represent the region in the upcoming Philippine National Health Research System Week Celebration on August 7 to 11, 2023 hosted by Eastern Visayas consortium in Tacloban City.
DOH 8 (Eastern Visayas) Director Exuperia Sabalberino, chair of the EVHRDC executive committee, cited the role of health research in ending the pandemic and in the recovery process.
"Researchers have been constantly mobilizing their studies on how to respond. If not for them, we would not be able to enjoy the new normal. We in the DOH (are) committed to deploy(ing) study resources to prepare our health care system to respond not only to Covid-19 (coronavirus disease 2019) cases, but also other illnesses," Sabalberino added.
Department of Science and Technology (DOST) 8 Director Ernesto Granada said their office is committed to promoting and empowering health research activities in the region.
"We appreciate the importance of research in our daily lives and in finding solution to pressing concerns," Granada said.
The two-day symposium at the Summit Hotel was the first face-to-face activity of EVHRDC.
Participants are key officials of the DOH, DOST, health facilities, researchers, and the academe.
The organization of EVHRDC emanates from Article II, Section 13 of Republic Act 10532, otherwise known as "An Act Institutionalizing the Philippine National Health Research System", which provides for the creation of regional health research systems "that will mirror the PNHRS framework in all the regions of the country, forming a network of regional research consortia." (PNA)