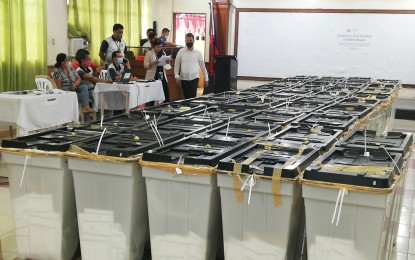 LEGAZPI CITY – The Commission on Elections (Comelec) office here on Thursday held an inventory and sealing of 42 ballot boxes from the protested clustered precincts in connection with the poll case filed by former Ako Bicol Rep. Alfredo Garbin.
Garbin, who lost to incumbent Mayor Geraldine Rosal, alleged electoral irregularities and uncounted votes in the May 9 polls.
"Today, the City Treasurer of Legazpi together with Comelec personnel and representatives from both parties will start conducting the inventory and sealing of the ballot boxes," Legazpi City Election Officer Connie del Castillo said.
She said the ballot boxes were from the villages of Taysan, 10; San Roque, seven; Bitano, six; Maslog, four; Puro, four; Tula-tula, four; Pawa, four; Dita, two; and Peñaranda Iraya, one.
During the opening of the storage area where the ballot boxes were placed, one representative from both parties was allowed to observe.
"For easier inventory and sealing, the ballot boxes were clustered per barangay for the identification of serial numbers," Del Castillo said.
After the sealing, the 42 ballot boxes from the nine barangays will be loaded in a truck for transport to Manila on Thursday night.
The ballots will be taken to the Comelec-PhilPost warehouse in Metro Manila for a recount.
Legazpi City treasurer Carlita de Guzman was present during the retrieval of the 42 ballot boxes.
Certain observations, manifestations, and actual status of the ballot boxes were noted by the legal counsels of both parties.
Meanwhile, Lt. Col. Dennis Balla, Legazpi City police chief, will ensure the security of the ballot boxes during transport to Metro Manila.
"As of now, police personnel was detailed inside the area to personally witness the ongoing inventory and sealing, and outside we have deployed a civil disturbance management (CDM) team in case of any disturbance," he said in an interview.
Balla also said two police teams were deployed to accompany the convoy of trucks bound for Manila. (PNA)