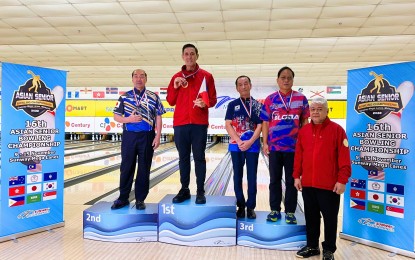 MANILA - Six-time world champion Rafael "Paeng" Nepomuceno of the Philippines captured the gold medal in the men's singles 65 and above category in the 16th Asian Senior Bowling Championships at the Sunway Megalanes in Petaling Jaya City, Malaysia on Thursday night.
Nepomuceno scored 1264 pinfalls to beat Akira Nakada of Japan (1238). Jin Headong of Korea and Leung Wai Man Raymond of Hong Kong scored identical 1223 pinfalls to share third place.
"I am happy to have given glory to the Philippines. I want to thank the Philippine Sports Commission (PSC), Philippine Bowling Federation, Inc. (PBF) and Philippine Senior Bowlers (PSB) for the support. I was so happy to hear our National Anthem again after all these years," said the 65-year-old World Bowling Hall of Famer in an online interview with the Philippine News Agency on Friday.
Philippine Olympic Committee chairperson and former bowling association president Steve Hontiveros lauded Nepomuceno's recent success.
"He's still the best, even in the senior division. Congratulations Paeng for a brilliant performance," said Hontiveros, who was involved in bowling for more than 30 years. He is now president of the Philippine Handball Federation, Inc.
Other countries participating in the tournament are are Australia, Guam, Saudi Arabia, Singapore, Chinese Taipei and Malaysia.
The number of entries in each division are: 89 (men's senior 50 and above), 60 (men's grand senior 65 and above), 56 (women's senior 50 and above) and 47 (women's grand senior 65 and above).
Meanwhile, the doubles category is scheduled on Nov. 11, while the Team of 4 will be held on Nov. 12.
According to the Asian Bowling Federation website, the top 16 in the All-Events standings based on the 18 games total contested over the three events will advance to the round-robin Matchplay Masters Finals on Nov. 19. Only four from each country in their respective divisions are qualified for the Masters Finals. (PNA)