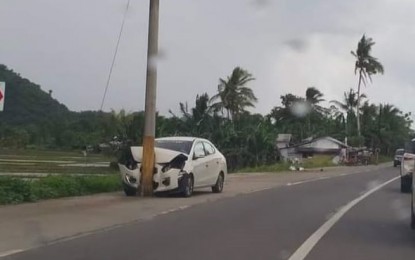 TACLOBAN CITY – At least 8,736 electric poles are blocking widened roads in Eastern Visayas, posing danger to motorists, according to the Department of Public Works and Highways (DPWH) regional office here.
The relocation of these poles requires P562.84 million in funds.
Of the proposed budget, only PHP48.93 million have been released from 2020 to 2021, said DPWH regional information officer, Cressida Paula Mangaporo, in a phone interview on Friday.
"We are still waiting for the release of funds requested for 2022. It's not easy to get funds since there are other regions with pending requests to remove electric poles," Mangaporo told the Philippine News Agency.
The official said the regional office expects more releases in 2023 since they have been making regular follow-ups to download the budget.
Of the 8,736 poles, 3,543 are in Samar province; 2,287 in Leyte; 1,656 in Northern Samar; 568 in this city; 518 in Southern Leyte; and 164 in Eastern Samar.
Leyte III Electric Cooperative (EC) general manager Allan Laniba, president of the National Association of General Managers of Electric Cooperatives, said they have been requesting funds for the relocation of posts in the past four years.
"We submit(ted) all needed documents, and this has been discussed in budget hearings in the House of Representatives. We don't have budget to relocate these poles. We installed these posts years before the road widening project," Laniba said in a phone interview.
He pointed out that the posts should have been removed before the road widening since it is more costly to relocate poles after concreting.
"It is very illogical for engineers to concrete the road if there are still poles there," Laniba added.
Mangaporo said the problem of unmoved posts will not be encountered in the new project since road widening projects that started in 2020 have already included funds for the relocation of affected electric poles.
Laniba called for the implementation of the Department of Energy – Department of Public Works and Highways (DPWH) joint circular signed in 2017, prescribing the uniform guidelines and procedures for the relocation of EC distribution/sub-transmission lines, and the proper payment of the costs involved.
Under the said joint circular, the DPWH requiring the relocation of electricity facilities like power lines "shall coordinate with the NEA and ECs to address all right of way concerns related to the affected facility, such as, but not limited to, claims for compensation and determination of relocation site." (PNA)