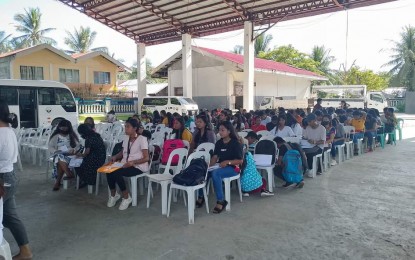 SAN JOSE DE BUENAVISTA, Antique – The Antique government is targeting to release the educational assistance of 19,000 tertiary and graduate students in the first week of December.
Antique Provincial Youth Development Office (PYDO) head Irish Manlapaz in an interview Friday said they are processing the educational assistance for marginalized students who have applied for the educational assistance for the first semester of the school year 2022-2023.
Manlapaz said of the target recipients, 18,370 are in college while 630 are taking up their graduate studies.
She added that the students qualified to receive educational assistance are those not enjoying other forms of scholarships from their schools and need the support of the provincial government for their books and their other educational needs.
The provincial government is giving PHP5,000 each to college students while graduate students are allocated PHP6,000 each for a semester.
"The provincial government has allocated a total of PHP110 million for the college students and PHP10 million for the graduate students for the entire year," Manlapaz said.
With the number of applicants for the educational assistance, they would need to request a supplemental budget next year as the present allocation of PHP120 million for both the college and graduate students for the entire year will be insufficient.
The educational assistance will be released per municipality so students will not have difficulty claiming the cash.
The educational assistance is an initiative of the administration of Governor Rhodora J. Cadiao to enable the child of a poor family in Antique to graduate from college, be employed, and help the family. (PNA)