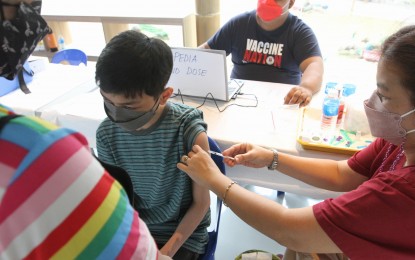 MANILA – Now that restrictions against the coronavirus disease 2019 (Covid-19) have been relaxed, the City of Manila on Friday urged its constituents to get inoculated, including booster shots, and the vulnerable population to continue wearing masks indoors.
During her Capital Report, Mayor Honey Lacuna made the oft-repeated reminder that getting vaccinated is both for self-protection and for the welfare of the general public.
Children should especially complete their vaccine shots because nearly all schools are back to face-to-face classes.
"We urged parents of elementary students to bring their children to our health centers. As we all know, some classrooms are crowded. It's much better if they are vaccinated," Lacuna, who is also a medical doctor, said in her speech.
Likewise, she asked Manileños to still wear masks indoors, particularly the immunocompromised, although the government said it is no longer mandatory.
"We encourage the elders, those who are immunocompromised, with comorbidities, pregnant, non-vaccinated, with incomplete vaccines, and without booster shoots, to still wear face masks," she said.
Inoculation in four malls and six district hospitals will cease by November 14 but the city's 44 health centers will continue to administer vaccines Mondays to Fridays from 8 a.m. to 5 p.m.
As of Friday, the city has 104 active Covid-19 cases. (PNA)