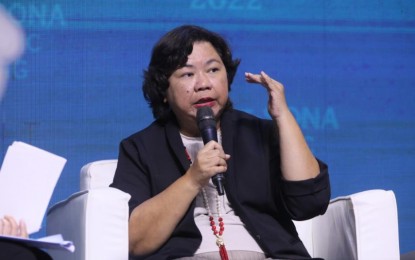 MANILA – The Department of Migrant Workers (DMW) on Saturday vowed full transparency, accountability, and "judicious" use of public funds after the Senate approved its PHP16.3 billion budget.
The upper chamber approved the budget in plenary Friday, allowing the new agency to inch closer to its first full-year budget since its creation.
"At 1:55 am, Friday, Nov 11, 2022 - the first ever DMW budget was approved. It was also the first time that the Senate approved a department's budget on the floor on a Friday which is a non-working day at the Philippine Senate," Migrant Workers Secretary Susan Ople said Saturday.
"A lot of hard work went into the crafting, defending and approval of the DMW's 2023 budget. We appreciate our legislators' love and compassion for our OFWs and their families," she added.
At least PHP4.32 billion is set aside for the Office of the Secretary (OSEC), PHP11.76 billion for the Overseas Workers Welfare Administration (OWWA), and PHP230 million as annual recurring allocations for retirement and life insurance premiums (RLIP).
The OSEC would set up 16 regional offices and centers, Overseas Employment Adjudication Offices in the National Capital Region (NCR) and Regions 3 (Central Luzon), 4-A (Calabarzon), 7 (Central Visayas), and 11 (Davao Region); and expand Migrant Workers Offices (MWOs), formerly known as Philippine Overseas Labor Offices (POLOs), in selected overseas locations.
The new regional offices and centers would bring the DMW and its services closer to OFWs and their families based in the provinces, the agency said.
Other key programs to be funded include digital modernization of its information and communications technology capability.
The Senate, the DMW said, provided an additional appropriation of PHP500 million for the operations of the OFW Hospital in Mabalacat, Pampanga, which would allow the facility to hire personnel for its 229 regular staff positions, acquire new equipment, and fund its operating expenses.
OWWA also received an additional PHP100 million, which will be used to help establish OWWA regional offices in Mindanao.
Senate Finance sub-committee Chair Joseph Victor "JV" Ejercito, who sponsored the department's budget, said the passage of the DMW's very first budget will make the department a fully constituted agency of government.
Ejercito also noted the qualifications of Ople to lead the new department saying, "no other person is more fit to head the Department of Migrant Workers than Secretary Toots Ople whose name is synonymous already to the laborers."
Senate Majority Leader Joel Villanueva, one of the principal authors of Republic Act 11641, or the law creating the DMW, expressed hopes that the current structure of the DMW would address the concerns of migrant workers and committed "to help the leadership in any way we can."
Senator Alan Peter Cayetano, meanwhile, explained his support for the DMW budget was a way of giving back to the country's OFWs for keeping the economy afloat. (PNA)