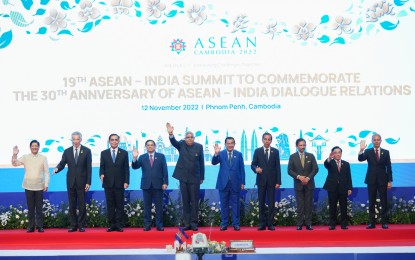 MANILA — President Ferdinand R. Marcos Jr. Saturday offered his condolences to India following the Oct. 30 bridge collapse in the western state of Gujarat that left more than 130 people dead.
Marcos expressed his sympathies during the 19th ASEAN-India Summit in Phnom Penh, Cambodia.
"At the outset allow me to add our condolences on behalf of the Filipino people for the tragic loss of life and injury from the bridge collapse that you recently suffered," Marcos said in his intervention speech.
He expressed hope for the immediate recovery of those who sustained injuries from the deadly incident.
"We pray for the injured to return rapidly to good health," he said.
Vice President Jagdeep Dhankhar led the Indian delegation at the summit of ASEAN leaders.
At least 135 people, most women, children, and elderly, were reported killed when a pedestrian suspension bridge collapsed in the Indian town of Morbi on Oct. 30.
Authorities said the collapse of the bridge was due to overloading. It was reported that the incident happened just a week after the bridge underwent repair.
The 754-foot bridge on the Machchu river was built during British rule in the 19th Century. (PNA)