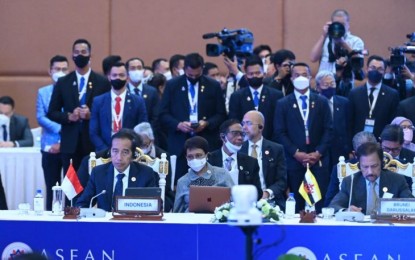 JAKARTA – Indonesian President Joko Widodo (Jokowi) has encouraged the ASEAN-India partnership to focus on maintaining stability, peace, and prosperity in the Indo-Pacific region.
At the same time, he urged partners to collaborate that would ensure solidity in the health and food sector.

"The Indo-Pacific is a strategic area. However, this region is prone to rivalries if we do not manage it properly. The condition can also lead to conflict. Hence, the ASEAN-India partnership must be able to become guardians for stability and prosperity in the Indo-Pacific," he stated in Phnom Penh, Cambodia on Saturday.
The president made the remark while attending the 19th ASEAN-India Summit at the Sokha Hotel, Phnom Penh, which was also attended by ASEAN leaders and Indian Vice President Jagdeep Dhankhar.
Jokowi pressed for concrete cooperation in the Indo-Pacific. Indonesia also invited India to play an active part in the Indo-Pacific Infrastructure Forum that will be held next year when Indonesia becomes the chair of ASEAN.
"The second aspect is health cooperation, including cooperation in the procurement of raw materials for drugs and medicines," he remarked.
Jokowi also reminded that related stakeholders should maintain the supply chain for raw materials and medicines in the future.
"Third, cooperation in the food sector. If this is combined, the number of ASEAN and Indian people will reach around two billion people. We must work together to avoid a fertilizer crisis," he remarked.
Jokowi said the "Global Crisis Response Group" reported that if a fertilizer crisis occurred, it would have an impact on rice production in the next year and affect over three billion people.
"ASEAN-India must be the driving force to avoid such a crisis," he emphasized.
Coordinating Minister for Political, Legal, and Security Affairs Mahfud MD; Coordinating Minister for Economy Affairs Airlangga Hartarto; Minister of Foreign Affairs Retno Marsudi; and Minister of State Secretary Pratikno also accompanied President Jokowi at the 19th ASEAN-India Summit. (Antara)