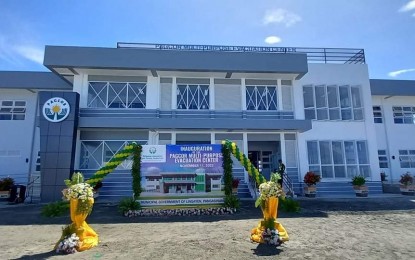 LINGAYEN, Pangasinan – A two-story multi-purpose evacuation center (MPEC) complete with facilities that can accommodate a thousand evacuees during flooding or holding events has been inaugurated here.

In an interview Saturday, Mayor Leopoldo Bataoil said they have requested the Philippine Amusement and Gaming Corporation (PAGCOR) to fund the MPEC due to the need of the locality.
Bataoil said the town suffers flooding every year as it is a catch-basin of flood water coming from other districts of Pangasinan and as far as Tarlac.

"Flood water flows at the Agno River and exits towards the Lingayen Gulf," he said.
Bataoil said they are considering converting the second floor of the building into a temporary session hall of the Sangguniang Bayan while they are waiting for the funds for the construction of a legislative building.
"It's complete with facilities such as a comfort room and bathroom, kitchen, dining areas, laundry room, lactating room, and rooms that can be used as classrooms or that can be converted as government offices," he added.
During the PHP50-million center's turnover to the municipality and inauguration on Friday, PAGCOR vice president Ramon Stephen Villaflor said the town can use the facilities for other purposes.

"When there is no calamity, the halls can be used for conferences, meetings, and training. They can also utilize it as an income generating venue for weddings, and birthdays, among others," he said.
Bataoil thanked PAGCOR for the center as a response to the town's request for a multi-purpose evacuation building.

"I have seen that even in the most remote places in the country, your agency has helped. We appreciate this kind gesture of yours to help our people, especially the vulnerable ones," he said.

The Lingayen MPEC is the 16th PAGCOR-funded evacuation center built in the country this year.

It was built on the town's three-hectare government center in barangay Pangapisan North.

Part of the agreement with PAGCOR is the town's counterpart lot.

The town also allotted PHP5 million which was used in the backfilling the area for the foundation of the building.

The approximate size of the lot occupied by the building is 960 square meters with ample parking space. (PNA)