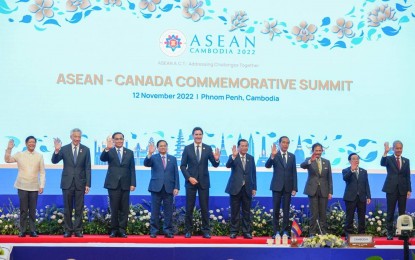 MANILA – President Ferdinand R. Marcos Jr. has thanked the government of Canada for employing Filipinos and welcoming them to their country with open arms.
"Canada is considered home by over 900,000 fellow Filipinos, and may I say that I have experience of the stories that these people tell me, and it is that they have been assimilated into society and into the workforce so smoothly," Marcos said in his intervention during the Association of Southeast Asian Nations (ASEAN)-Canada Commemorative Summit in Phnom Penh on Saturday.
"...This is completely due to the warmth and the kindness of Canadian people. For that, we thank you very much," he added.
Earlier this year, Canada announced that it will be accepting more Filipino immigrants and workers.
In the same speech, Marcos vowed to work with the ASEAN and Canada to deliver on its commitment to protect and promote migrant workers' rights through various initiatives.
He thanked Canada's support for the TRIANGLE in the ASEAN program, which is a part of the International Labour Organization's (ILO) global efforts to promote fair migration.
"The project has promoted labor mobility across the region along with the improvement of working conditions and labor protection policies, particularly for low-paid migrant workers," Marcos said.
According to the ILO, the TRIANGLE in the ASEAN program will "create a suite of policies, tools, and services that enhance the contribution of labor migration to stable and inclusive growth and development."
Women empowerment
Marcos likewise welcomed Canada's continued support for ASEAN initiatives for the welfare of women such as the ASEAN Regional Plan of Action on Women, Peace and Security (WPS).
He said the initiatives aim to support the upskilling of women and empowering women entrepreneurship, particularly of micro, small and medium enterprises (MSMEs) in ASEAN, adding that women stand to benefit from Canada's support for ASEAN's digital transformation efforts that are inclusive and enable women to participate in the region's development.
Canadian Prime Minister Justin Trudeau, in his intervention, announced his country will host a Jakarta-based series of WPS dialogues with ASEAN in 2023, in line with ASEAN's Regional Plan of Action on WPS.
This builds on Canada's 2021 flagship initiative "Empowering women for sustainable peace: preventing violence and promoting social cohesion in ASEAN," which was designed to advance WPS priorities, such as ensuring women can participate equally with men in decision-making, including in matters of peace and security.
The dialogue series will engage Canadian civil society and non-governmental organizations and provide a platform for discussions on the m WPS agenda in ASEAN and other priorities, such as enhancing the role of women in political leadership.
"WPS is a shared priority for Canada and ASEAN and is a core element of Canada's Feminist Foreign Policy to achieve sustainable global peace, respect human rights and dignity, embrace evidence-based decision-making, and reduce inequality," Trudeau's official website read.
Common goals
Later in the day, Marcos and Trudeau held a bilateral meeting where the two leaders agreed to strengthen economic cooperation, stand up for women's opportunities, protect human rights, and fight climate change, among others.
"I know there's a tremendous opportunity to work together and I'm looking forward to doing just that," Trudeau told Marcos.
"We have some very strong Philippine Canadian members of parliament and members of my team who are very happy that we're able to launch a new area in our friendship and our partnership and I'm very much looking forward to it," he added.
Marcos said the integration of Filipinos in Canada serves as a strong foundation of the two countries' relations.
"They all seem to have become part of the workforce, become part of society. They have found their place and they have been given that place by the Canadians, and for that, they are grateful, and we are grateful. And I think it is…it serves as a very good foundation for whatever else that we feel that we can do together," he said. (PNA)