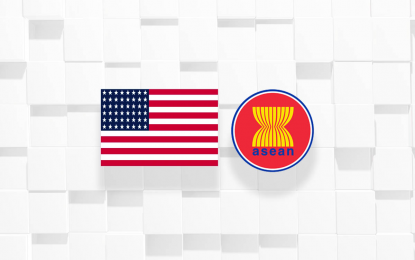 MANILA – President Ferdinand R. Marcos Jr. has called for an enhanced partnership between the Association of Southeast Asian Nations (ASEAN) and the United States (US) to address marine pollution.
In his intervention during the 10th ASEAN-US Summit in Phnom Penh, Marcos said stronger collaboration would give nations more capabilities to enforce regulations that prevent human-created products from entering the ocean.
"Let us continue our cooperation in fighting against illegal, unregulated and unreported fishing and also in combating marine plastic debris and marine pollution," he said in his speech.
He welcomed US projects that support efforts to combat transnational crime, terrorism, and human trafficking.
Likewise, Marcos said the Philippines will cooperate in efforts to attain regional peace and security.
"We regard as of primary import Quad's assurance of unwavering support for ASEAN unity and centrality with the view that such minilateral mechanisms should complement the ASEAN-centered regional security architecture," Marcos said.
Quad, or the Quadrilateral Security Dialogue (QSD), is a strategic security dialogue between Australia, India, Japan, and the United States maintained by talks between member countries.
Marcos sought the continuation of the engagement and capacity-building programs for law enforcement agencies and personnel through the International Law Enforcement Academy and the Senior Officials Meeting on Transnational Crime + US (SOMTC + US).
He also welcomed the joint statement to establish the ASEAN-US Comprehensive Strategic Partnership (CSP), describing it as "a strengthening of our relationship and will serve as an additional anchor to our regional architecture and to the current international order that is presently volatile and constantly in flux."
On Saturday, the ASEAN-US Leaders adopted a statement declaring the establishment of the ASEAN-US Comprehensive Strategic Partnership to "reflect the ambitious outcomes of the 9th ASEAN-U.S. Summit and the 2022 ASEAN-U.S. Special Summit."
This partnership is expected to open new areas of cooperation vital to the future prosperity and security of its people, and task officials to follow up on its implementation.
US President Joe Biden said the CSP between the United States and the ASEAN bloc will help to tackle "the biggest issues of our time".
The pact, he said, seeks to defend nations against "threats to the rule of law" and "build an Indo-Pacific that is free and open, stable and prosperous, resilient and secure."
He said the agreement marked a "new era" in US-ASEAN ties. (PNA)