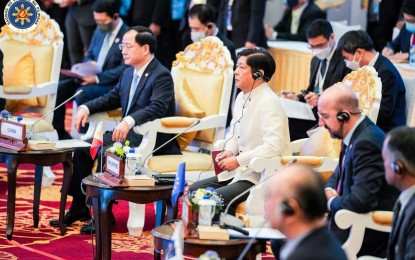 MANILA – President Ferdinand R. Marcos Jr. on Sunday underscored the need for the Association of Southeast Asian Nations (ASEAN) to create sustainable growth and a human-centered future post-Covid-19.
Marcos said nations cannot achieve economic progress alone.
"We, as ASEAN, must promote a people-oriented and people-centered recovery and development pathway beyond the Covid-19 pandemic," Marcos said in his intervention during the 2nd ASEAN Global Dialogue in Phnom Penh, Cambodia.
Citing efforts in the Philippines to facilitate socioeconomic recovery, Marcos presented his administration's Medium-Term Fiscal Program and the upcoming Philippine Development Plan (PDP) 2023-2028, which contains targets and strategic actions of government agencies in the next six years.
He touted the country's gross domestic product displayed a rebound growth rate of 5.7 percent in 2021 and a 7.8 percent average growth rate for the first half of 2022.
"These numbers are welcome indicators. They show that our recovery is proving to be robust and that we are returning to our original growth trajectory prior to the crisis," he said.
He expressed confidence that the Philippines is ready to manage the risks posed by the Russia-Ukraine conflict and the devastating effects of natural calamities that have driven steep and persistent inflationary pressures on food, transportation and energy.
"I am quite optimistic that we have started along the path to recovering from the Covid-19 pandemic and the attendant problems in our economy," he added.
Education, digital trade, climate change
Meanwhile, Marcos raised three areas in which the Philippines continues to work on to accelerate economic transformation: education, digital trade, and climate change.
He said the Philippines recognizes the "urgent need" for the digital transformation of ASEAN education systems to ensure that students are equipped with the necessary skills, competencies, and values.
As part of these efforts, he said the Philippines led the development of the Declaration of the Digital Transformation of Education Systems in ASEAN, with the support of the ASEAN Secretariat and the UNICEF-East Asia and Pacific Regional Office.
Marcos said the country must also address limited connectivity and low-level digitalization of micro, small, and medium-sized enterprises (MSMEs) to harness the growth potential of the region's digital trade sector, citing how MSMEs lack the resources to research international sales opportunities, build a global business network, and market their products overseas.
"Digital technologies can help, but many MSMEs lack understanding of available digital solutions, available software or business platforms, and related trade opportunities. And as such, we must put focus on their reskilling and upskilling in the digital domain," he said.
On climate change, Marcos said ASEAN must recognize how it poses clear and present danger, not only to national security, but to food supply, health care systems, and shelter.
He urged ASEAN colleagues to support the fast conclusion of the Global Goal on Adaptation work program, which was established under the Paris Agreement to reduce vulnerability to climate change.
"Through these adaptation measures, the increasing losses and damages from climate change may be mitigated or hopefully even prevented. The global goal should not only focus on enhancing capacity and sharing of information, but the time has come for actual implementation," he said.
Aside from the 2nd ASEAN Global Dialogue, Marcos also participated in the 40th and 41st ASEAN Summits, 25th ASEAN-China Summit, 23rd ASEAN-South Korea Summit, ASEAN-United Nations Summit, 25th ASEAN Plus Three Summit, 19th ASEAN-India Summit, 2nd ASEAN-Australia Summit, 25th ASEAN-Japan Summit, 10th ASEAN-US Summit, ASEAN-Canada Commemorative Summit, and 17th East Asia Summit.
He attended business meetings, gatherings with fellow state leaders, six bilateral talks, and a meet and greet with the Filipino community.
Cooperation
At a media forum, Senator Sherwin Gatchalian said he wants the Philippines-Indonesia relationship strengthened, calling for an increased bilateral trade and economic cooperation with the largest economy in the ASEAN and the fourth most populous nation in the world with about 280 million people.
He said Indonesia is not included among the Philippines' top 10 trading partners despite being a close geographical neighbor and a big consumer market.
Sharing technology with Indonesia will boost the country's energy security as well as in the cultural, social, education sectors, according to Gatchalian.
"I think the area for cooperation is to share technologies, share laws, share regulations and policies. I think we can share our experiences," Gatchalian said at the Pandesal Forum in Quezon City on Sunday. (With a report from Leonel Abasola/PNA)