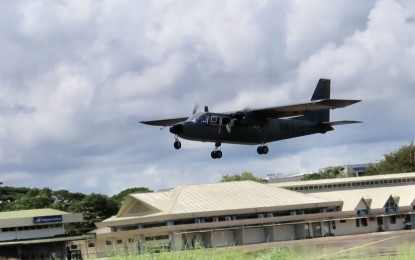 MANILA – The Philippine Navy (PN)'s Norman-Britten Islander may be old but its performance is still at par with other modern assets in the ongoing "DAGIT-PA" exercises.
Western Command (Wescom) chief Vice Adm. Alberto B. Carlos made this remark as he personally flew an Islander aircraft with tail number (NV-314) last Nov. 11.
"The PN Islander may be the oldest aircraft participating in the exercise, and now being flown by the oldest pilot -- but still strong and capable of accomplishing the mission," he added in a statement over the weekend.
Carlos, a rated pilot from the Naval Air Wing, took off from Antonio Bautista Air Base in Puerto Princesa to simulate a joint air, sea and land operation while conducting security patrols over Palawan.
The flight made him the most senior pilot-in-command in the ongoing "DAGIT-PA".
"The PN Islander aircraft remains to be a dependable asset we use for our maritime patrols and other security missions, especially in the West Philippine Sea," Carlos said.
The PN has around four to six Islander aircraft in its inventory and is being used by Wescom in the conduct of maritime domain awareness activities in its area of responsibility.
The Islander was first produced in 1965 with the Philippines acquiring the aircraft during the late 1970s to early 1980s.
"DAGIT-PA" stands for "Dagat, Langit at Lupa" and entails the participation of the three major services of the Armed Forces of the Philippines (AFP) -- the Navy, Air Force, and Army as employed in joint operations.
This year's "DAGIT-PA", which runs from Nov. 7 to 18, is the sixth iteration of the joint exercise unilaterally conducted by the AFP.
There will be four major events that will highlight the exercise, namely: table top exercise (TTX), staff exercise (STAFFEX), cyber defense exercise (CYDEX), and field training exercises (FTX) in various locations in Palawan.
With the exception of the FTX, all of the training events will be conducted in Camp General Artemio Ricarte in Puerto Princesa City. FTX events are the amphibious landing exercise scheduled on Nov. 14 in Brooke's Point, and the combined arms and littoral live-fire exercise to be held on Nov. 15 in Rizal, both in Palawan.
Meanwhile, Wescom staff officers have underwent a STAFFEX that aims to provide them with realistic training on crisis action planning and execution and effective command and control down to the tactical level of the different joint forces.
"This exercise among the staff of Wescom recalibrates our ability to provide command and control for our joint forces in the conduct of territorial defense, maritime security, and counter-terrorism which require interoperability of different AFP units," Carlos said.
He added that they appreciate that the different scenarios have been made as realistic as possible for them to truly identify the gaps to serve as the basis for the AFP modernization program, training, and crafting of appropriate policies or plans. (PNA)