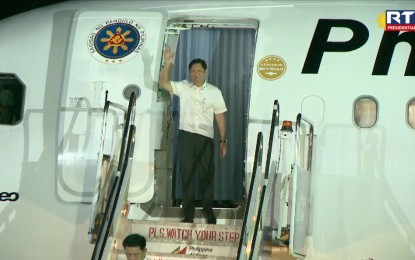 MANILA – President Ferdinand R. Marcos Jr. returned to the Philippines early Monday morning from what he described as his "successful" participation in the 40th and 41st Association of Southeast Asian Nations (ASEAN) Summits and Related Summits in Phnom Penh, Cambodia from Nov. 10 to 13.
"I am pleased to report that my visit to Cambodia for the 40th and 41st ASEAN Summit was successful," Marcos said in his arrival statement delivered past midnight on Monday at the Villamor Air Base in Pasay City.
Marcos said the ASEAN Summits gave him and other heads of state the chance to give their positions, get a good idea of where things stand, and learn more about other nations' concerns and current situations.
"We also got the opportunity to put forward our position, our plans and to find ways where we can help each other, where we can coordinate, and all that," he added.
He said his most important "takeaway" from the biannual meeting was a consensus among the ASEAN member states on the need to remain united and use collective strength as the region recovers from the Covid-19 pandemic.
"Pare-pareho kasi sa atin, 'yung food supply, presyo ng fertilizer, presyo ng langis, iyon ang inaalala supply-side problems. Parehong-pareho sa atin…Nagkakaunawaan lahat ng member states na hindi kaya ng mag-isa. Kailangan magsama-sama, kailangan magtulungan (We have the same problems, food supply, prices of fertilizer, prices of oil, supply problems. It's all the same…Member states understand that we can't do this alone. We need to be united, we need to help each other)," he said.
During the Related Summits, Marcos said he and other heads of state tackled ASEAN community-building efforts, pressing regional concerns and issues such as the situation in Myanmar, the developments in the South China Sea, the fighting in Ukraine, the application of Timor-Leste for ASEAN membership, among others.
He also participated in Summits with ASEAN dialogue partners like the United States, Australia, New Zealand and Canada.
"We reviewed the progress of our relations so far, in the initiatives and projects under ASEAN-led mechanisms. There was an exploration of possible new areas of cooperation with our dialogue partners. We exchanged views on regional and international issues," he said.
Marcos also engaged in a global dialogue with regional and international organizations such as the International Monetary Fund, World Economic Forum, and World Bank and discussed collaborative efforts on a comprehensive post-Covid-19 economic recovery.
Bilateral meetings, roundtable discussions
Marcos said he had bilateral discussions with this year's ASEAN chairperson and Cambodian Prime Minister Hun Sen, Brunei Sultan Hassanal Bolkiah, South Korean President Yoon Suk Yeol, Vietnamese Prime Minister Pham Minh and Canadian Prime Minister Justin Trudeau.
"In these meetings, we discussed how we can deepen cooperation in key areas and we exchanged views on important regional and global issues once again," he said.
He said the Department of Trade and Industry of the Philippines held a roundtable discussion with business leaders on micro, small and medium-sized enterprises (MSMEs).
According to Marcos, he also had the chance to invite business leaders to do business in the country.
"I invited the business leaders to visit and have a look at what the opportunities that they might find in the Philippines, arising from the process of transforming the economy, given that it seems our direction for post-pandemic recovery is bearing fruit. Our discussions touched on collaboration on specific sectors such as food processing, energy, housing, medical care, the manufacture of garments [and] bags, education, [and] training," he said.
Marcos, who heads the Department of Agriculture, also raised the role of the private sector in helping nations ensure sufficient food supply and affordable food.
He thanked his Cabinet members for laying the groundwork and representing their respective sectors during the ASEAN Summits.
He also expressed gratitude to the Cambodian government for extending a "warm welcome" and looked forward to working with Indonesia, the incoming chair of ASEAN Summits next year.
Meeting with Filipino community
On his fourth and last day in Phnom Penh, Marcos said he met with the members of the Filipino community in Cambodia to express gratitude for their contribution to the growth of the Philippine economy.
"I was honored to meet them, and I thanked them for their efforts and contribution to our nation's progress and development, as well as that of Cambodia because they have been lauded by even Prime Minister Hun Sen as part of the reconstruction of Cambodia. The Filipinos played a very large part," he said.
He said he also updated them on what is happening in the country right now, particularly developments on the programs and policies of his administration.
Marcos earlier described Filipinos as "the best people in the world" for making a good reputation with employers here and abroad.
New kid in town
In a media interview on the sidelines of the ASEAN Summit, Marcos said the biannual meet was also a chance for him to introduce himself to other heads of state who were in attendance.
It was Marcos' first time to attend the ASEAN Summit since assuming office in June this year.
"I'm the new kid in town, right? So, it's to meet people and say, magpakilala (introduce myself), you know," he said.
He said ASEAN leaders also invited him to make state visits to their respective countries. (PNA)