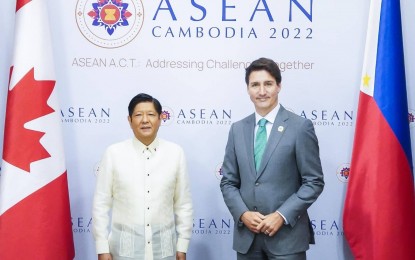 MANILA – President Ferdinand R. Marcos Jr. and Canadian Prime Minister Justin Trudeau on Sunday met to discuss ways to manage climate change and assist Filipino micro, small and medium enterprises (MSMEs) grow their business.
In a bilateral meeting at the Sokha Hotel in Phnom Penh, Cambodia, Marcos cited the Philippines' experience in dealing with Severe Tropical Storm Paeng (international name Nalgae) as among the direct effects of climate change.
"It was a very strange one because it was the very first one in our history where every single part of the country was affected by one typhoon. From up in the northern part, the northern island of Luzon, all the way down to the southern part of the Philippines. Everybody felt it and felt it badly," he told Trudeau.
Marcos explained that the consequences of climate change greatly affect the Philippines, which is very vulnerable due to its geography.
He described the Philippines as a sink that absorbs carbon dioxide (CO2).
"...This is how it developed and this is how it has evolved. We have to manage it and we have to deal with it so… these are the consequences of that neglect," Marcos said.
Trudeau, for his part, said Canada had the same experience after the country was hit by recent hurricanes on the East Coast, forest fires, droughts and floods.
"Unfortunately over the past decade as we -- as people still talk about global warming, rather than climate change, there are a number of Canadians who went around saying, 'Oh global warming that will be good for us…,'" the Canadian leader said.
Although some failed to realize the unpredictability and consequences of climate change in the past, Trudeau said it was a "big step" that more people are now aware of the reality of the effects of climate change. However, he said there is still "a lot of work" to do.
Trudeau likewise extended his sympathies to the Philippines following the devastation caused by Paeng which resulted in casualties and damage to agriculture, properties and infrastructure.
Doing business, MSMEs
Meanwhile, Marcos welcomed Trudeau's offer to collaborate to simplify the process of allowing Canadian infrastructure builders to secure projects in the country and help Filipino micro, small and medium enterprises (MSMEs) develop.
He said that one of the thrusts of his administration is to assist MSMEs in recovering from the pandemic.
"They are 99.8 percent of our businesses, our MSMEs. They are 62.63 percent of our employment. [They] are employed in MSMEs. And it took a big hit in the pandemic. And so that's what we've been trying to do -- is to try to support them, and it has a very large multiplier effect," he said.
Trudeau said there were "a number of things" that can be done to make it easier for Canadian investors to establish infrastructure in the Philippines.
"We should make sure we're accelerating our works so that we can be much more active partners on that," he said.
He said there were a number of programs he could share that would help MSMEs, particularly those that are women-owned and run, succeed. (PNA)