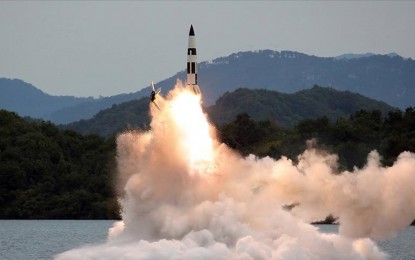 ANKARA – The leaders of Japan, the US, and South Korea met on Sunday in Cambodia and discussed cooperation in dealing with North Korea's missile and nuclear threats.
Ahead of the trilateral talks in the Cambodian capital Phnom Penh, US President Joe Biden held bilateral talks with Japanese Prime Minister Fumio Kishida, Kyodo News quoted a statement by the Japanese government.
Kishida, Biden, and South Korean President Yoon Suk Yeol are almost certain to affirm the need to strengthen deterrence against North Korea, which has been test-firing ballistic missiles at an unprecedented pace since the beginning of this year, according to Japanese officials.
Meanwhile, Biden on Sunday reaffirmed his country's commitment to the Indo-Pacific region and emphasized the importance of freedom of navigation in the East and South China seas.
During an annual regional meeting involving members of the Association of Southeast Asian Nations (ASEAN), "President Biden reaffirmed the enduring US commitment to the Indo-Pacific, with ASEAN at its center," Kyodo News cited a statement by the White House following the East Asia Summit.
The 18-member East Asia Summit was kicked off amid ongoing tensions between the US and China over Beijing's excessive maritime claims in the South China Sea and its pressure on Taiwan, while North Korea continues to conduct ballistic missile tests.
During the event, Biden commented on US-China relations, underscoring that his country will "compete vigorously" with China and speak out against Beijing's alleged human rights abuses, according to the press release.
It also said Biden hopes to keep the lines of communication open between the world's two largest economies so that competition does not veer into conflict, reaffirming the importance of maintaining peace and stability across the Taiwan Strait.
ASEAN grouping includes Brunei, Cambodia, Indonesia, Laos, Malaysia, Myanmar, the Philippines, Singapore, Thailand, and Vietnam. The East Asia Summit comprises ASEAN plus Australia, China, India, Japan, New Zealand, Russia, South Korea, and the US.
Biden meets South Korean counterpart
Meanwhile, South Korean President Yoon Suk-yeol and his US counterpart also held a summit in Cambodia on Sunday, Yoon's office was quoted by Yonhap News.
During his remarks at the summit, President Yoon said North Korea's denuclearization is a precondition for peace in the Indo-Pacific region and that South Korea remains prepared to provide unsparing assistance should the North decide to denuclearize, the report added.
"President Yoon said North Korea's denuclearization must come first for a peaceful Indo-Pacific, and that should North Korea launch another intercontinental ballistic missile or stage a nuclear test despite the repeated concerns and warnings of the international community, the international community should respond firmly," his office said in a press release.
The 25th ASEAN Plus Three – China, Japan, and South Korea – summit kicked off Saturday in Cambodia's capital of Phnom Penh and is attended by ASEAN leaders.
Tensions on the Korean Peninsula have risen further following recent military drills by South Korea, and the US as well as North Korean missile tests. (Anadolu)