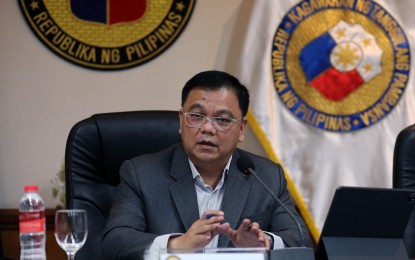 MANILA – The Department of National Defense (DND) has always been a major contributor to the peace, stability, and development of the nation, its chief maintained on Monday.
"Celebrating our founding anniversary gives us all a chance to look back and reflect on the lessons we have learned as well as strengthen old relationships and forge new bonds with the partners we meet along the way – always guided by the vision of President Ferdinand R. Marcos Jr. to have a better and stronger Philippines through national unity, nation-building, and economic recovery," said DND officer-in-charge Undersecretary Jose Faustino Jr. in his speech during the agency's 83rd anniversary celebration in Camp Aguinaldo, Quezon City.
This year's theme is "DND @ 83: Matatag na Sandigan ng Sambayanan para sa Kapayapaan at Kaunlaran".
The activity included the recognition of the model employees and supervisors from the DND and its bureaus and attached agencies, namely the Armed Forces of the Philippines, Philippine Veterans Affairs Office, Office of Civil Defense, National Defense College of the Philippines, Government Arsenal, and the Veterans Memorial Medical Center.
Faustino also conferred various loyalty awards on the DND's personnel for their invaluable services not only to the organization but to the Filipino nation.
He was also presented with the Strategic Defense Review (SDR) document.
The SDR is a pioneering document that aims to bridge the accomplishments of the previous administration, as seen through the lens of the first-ever National Defense Strategy 2018 to 2022, with the priorities of the current DND leadership.
Faustino also thanked the men and women of the "One Defense Team" for continuously upholding the mandates of the organization to protect the country against internal and external security threats, and emphasized the importance of serving the country with passion and commitment.
"Let us show our love for our nation by being dedicated to our work and remember that we each have a role to play in the development of our country. Patuloy po nating mahalin ang ating bayan (Let us continue to love the nation)," he added. (PNA)