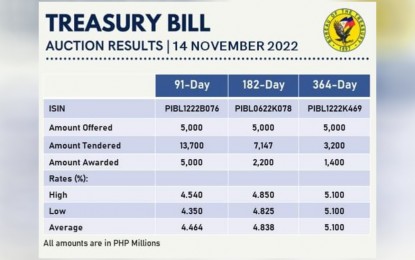 MANILA – The rate of Treasury bills (T-bills) rose on Monday, with demand still high for the three- and six-month papers but the one-year paper was undersubscribed.

The average rate of the 91-day paper rose to 4.464 percent, the 182-day's to 4.838 percent, and the 364-day's to 5.100 percent.

These were at 4.350 percent, 4.800 percent, and 5.000 percent for the three-month, six-month, and one-year papers, respectively, during the auction last Nov. 7.

The BTr kept the offer volume at PHP5 billion for each tenor and fully awarded the 91-day securities.

The six-month T-bill was awarded for PHP2.2 billon and the one-year for PHP1.4 billion.

Total tenders reached PHP13.7 billion for the three-month paper while it amounted to PHP7.147 billion for the six-month paper and PHP3.2 billion for the one-year T-bill.

National Treasurer Rosalia de Leon earlier attributed the rise in government securities' rates to expectations for further hikes in the key policy rates of the Bangko Sentral ng Pilipinas (BSP) and the Federal Reserve to help address the acceleration of inflation rate in both countries.

The Fed earlier this month hiked by another 75 basis points the funds rate.
BSP Governor Felipe Medalla said they will mirror this adjustment during the rate-setting meeting of the policy-making Monetary Board (MB) on Nov. 17 to ensure enough interest rate differential between the Philippines and the United States. (PNA)