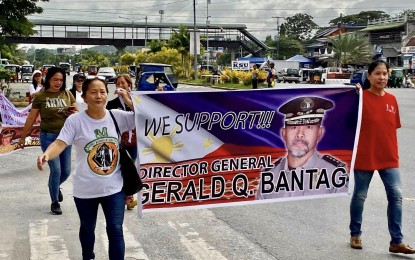 MANILA – Prosecutors have directed suspended Bureau of Corrections (BuCor) Director General Gerald Bantag to formally give his side in the preliminary investigation into the murder of broadcaster Percival "Percy Lapid" Mabasa and inmate Jun Villamor.
In a message to the media on Monday, Prosecutor General Benedicto Malcontento said the panel tasked to handle the consolidated cases handling the Mabasa-Villamor cases set the hearings on Nov. 23 at 9 a.m. and Dec. 5 at 1 p.m.
Also subpoenaed were BuCor Deputy Security Officer Ricardo Zulueta and at least four inmates.
In an interview on Friday with a news channel, Bantag accused again Department of Justice (DOJ) Secretary Jesus Crispin Remulla of railroading the case.
He said he would not surrender unless Remulla steps down as the latter has no more credibility.
On the same day, the DOJ said evidence prompted the filing of murder charges against Bantag, contrary to the his claim that he is being persecuted to ease him out of office.
"Nobody wanted the evidence to point to Bantag. It was not good news when the evidence started to point to the respondents," DOJ spokesperson Mico Clavano said in a press briefing on Friday afternoon.
The Department of the Interior and Local Government, Philippine National Police, and National Bureau of Investigation have filed murder complaints against Bantag, Zulueta, and six persons deprived of liberty who have links with Villamor. (PNA)