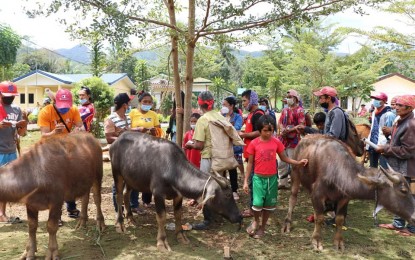 MANILA – As the national government dwells on its commitment to nation-building, the National Commission on Indigenous Peoples (NCIP) and the Indigenous Cultural Communities/Indigenous Peoples (ICCs/IPs) of the Philippines, will hold a summit on Wednesday that will showcase the 11 building blocks of ancestral domains.
The summit which carries the theme, "Building Families, Building Ancestral Domain/Ancestral Land Communities and Building the Nation," aims to help the indigenous communities to be the most capable citizens who can contribute to nation-building while exercising their rights to self-governance and secure their ancestral domains and lands.
It will introduce the 11 Building Blocks for Resilient, Responsive, and Relevant ICCs/IPs that could boost their capabilities and potential in nation-building.
These 11 building blocks provided in the Indigenous Peoples Rights Act (IPRA) are confirmation of Indigenous Political Structure (IPS); Registration and Accreditation of Indigenous Peoples Organizations; Certificate of Ancestral Domain Title and Certificate of Ancestral Land Title Delineation Process; establishment of AD Management Office; Ancestral Domain Sustainable Development and Protection Plan Formulation; IP Wealth Management-Community Resource Management Development Plan Formulation; Institutionalization of CP: Free, Prior and Informed Consent and Exercise of Priority Rights; effective IPMR in the Local Legislative Bodies; efficient and enhanced MOA/MOU/MOC Formulation, Socio-Economic Activities with IP Cooperatives, and Ancestral Domain Defense System.
The summit which is expected to be attended by officials of the government, leaders of the private sector and ICCs/IPs, and other stakeholders will be held at the Armed Forces of the Philippines Commissioned Officers Clubhouse (AFPCOC), Camp Aguinaldo, Quezon City on November 16, 2022.
"Their vast tract of land is teeming with resources, boosting with potentials for mineral extraction, the establishment of ecological and cultural tourist destinations, improvements of local supply chains through road networks and economic zones, and better access to potable water sources are just among the capacities they are blessed with," according to a press statement released by the NCIP. (PNA)