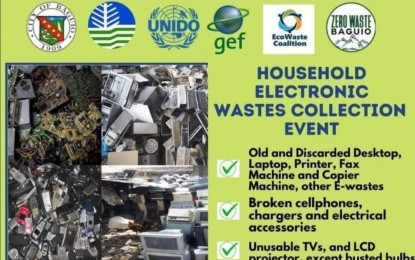 BAGUIO CITY – A city official on Tuesday called on residents for the proper disposal of electronic waste (e-waste) to avoid health and environment risks from these hazardous items.
Aileen Refuerzo, chief information officer of the city government, encouraged households to join the e-waste collection event until Nov. 18 by bringing their discarded appliances and electronic gadgets at their barangay halls for sorting,
In an advisory issued by the city government, e-waste that can be brought include old and discarded desktops, laptops, printers, fax machines, copier machines, broken cellphones and chargers, other household electronic devices and accessories, unusable televisions, and unserviceable liquid crystal display (LCD) projectors but excludes busted lamps.
Refuerzo said the Pacdal covered court was designated as the collection area but residents can bring their e-waste to their barangay halls for sorting.
The items will be brought to the Department of Environment and Natural Resources (DENR) which will be properly treated by an accredited contractor of the agency to prevent any leaks and hazards emitted by the device from contaminating the soil or causing air pollution or anything that will cause harm to humans and the environment.
Refuerzo said the activity aims to raise awareness and protect human health and the environment from the harmful effects of polybrominated diphenyl ethers (PBDEs) present in e-waste.
She said it is part of the city's initiative to improve hazardous waste management and support the United Nations Industrial Development Organization project, "Implementation of safe e-waste management." (PNA)