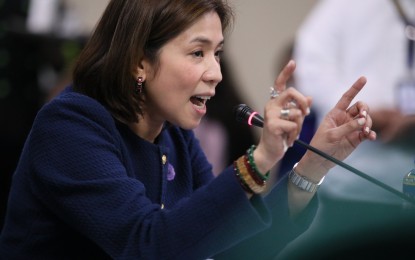 MANILA – Budget Secretary Amenah Pangandaman is set to lead the launching of the Department of Budget and Management's (DBM) Knowledge Center in Tacloban City, Leyte on Wednesday.
The launching of the new knowledge hub for Eastern Visayas is part of the activities that will be held during the three-day event for local budget officers (LBOs) in Tacloban City, the DBM said in a press statement.
"On the first day of the series of activities, Secretary Pangandaman is also expected to lead the launching of the DBM Knowledge Center at the DBM Regional Office VIII," the Budget department said.
The DBM Knowledge Center will serve as a repository of information primarily on public financial management (PFM) which will be accessible to various agencies, students and other users of information.
Apart from the launching of the regional knowledge center, Pangandaman will also grace the Visayas area conference of LBOs on Wednesday, the DBM said.
The DBM said Pangandaman's attendance at the forum is in line with the agency's strategic objective to foster a "more open, sound and strong" public financial management.
"The event, hosted by the Philippine League of Local Budget Officers (PHILLBO) Visayas, Inc., in coordination with the DBM, aims to enhance the transformational leadership competencies of LBOs and other local budgeting practitioners," it said.
Pangandaman, the DBM said, will also administer the oath-taking ceremony of newly elected PHILLBO Visayas Officers.
Around 500 participants, composed of local department heads and staffers, including those under budget, treasury and planning, will attend the event.
Some local chief executives and local PFM practitioners are also expected to join the activity.
The three-day event carries the theme, "Local Budget Officers: Transformational Leaders for a More Inclusive and Sustainable Public Financial Management."
The DBM said the implementation of devolution transition plans, regional vision -- sharing of party-list representatives based in Eastern Visayas, collaboration techniques and growth mindset will be discussed at the forum.
Pangandaman is a known advocate for a more inclusive and sustainable LGU public financial management.
In a recent interview with SMNI, Pangandaman emphasized the need to develop the DBM's financial management system to promote government transparency, accountability and efficiency. (PNA)