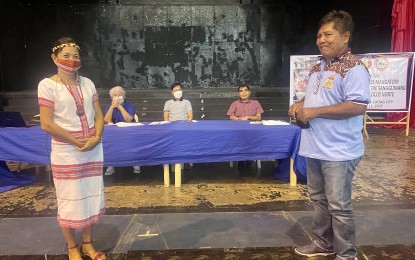 LAOAG CITY – A child development worker from the Tingguian tribe of Nueva Era, Ilocos Norte was selected on Tuesday as the first Indigenous Peoples Mandatory Representative (IPMR) to the Sangguniang Panlalawigan (SP or Provincial Board) of Ilocos Norte.
Participated by a total of 141 IP selection bodies representing 30 organizations of the entire IP community of Ilocos Norte covering the towns of Adams, Pagudpud, Dumalneg, Bangui, Vintar, Marcos, Dingras, Carasi, Solsona and Nueva Era, 53-year-old Cheryll Bromeo Tabangay won by 15 votes against her rival, Lorenzo Agwarnak Padama, 66, a Yapayao from Barangay Kalaw of Dumalneg town.
During the historic selection of the first IPMR held at the Laoag Centennial Arena on Tuesday, Tabangay and Padama were nominated by their respective tribal chieftains.
Facilitated by the National Commission on Indigenous Peoples (NCIP), the selection of the first provincial IP representative to the Ilocos Norte board was conducted by open nomination.
Prior to the selection, the nominees were presented to the selection body and given time to present their agenda. After which, each of the selection body members stood behind their chosen nominee.
As a result, Tabangay got 78 and Padama got 63 votes.
Once seated as an ex-officio board member in the provincial board, Tabangay said she would push for legislation advancing the rights and welfare of the IPs especially in promoting the rights of IP children to have quality education.
"We are happy that finally, we are selecting an IP representative in the Ilocos Norte board," Jesus Agbayani, provincial legal counsel of the NCIP in Ilocos Norte, said.
Based on the local guidelines formulated by the IPs themselves, the nominees must be a bonafide member of the IP community, knows how to speak the dialect of the IP he/she represents, a law-abiding citizen, have no political party affiliation, and not a relative of any incumbent elected official up to the second degree of affinity.
After the selection of IPMR at the provincial level, Agbayani said the NCIP will transmit the result to the NCIP Regional Office which will then issue a certificate of affirmation. An oath-taking ceremony will take place prior to her assumption as ex-officio provincial board member. (PNA)