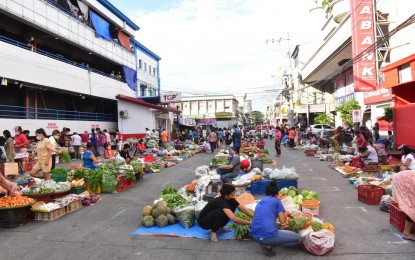 LAOAG CITY – The city government has formed a team to check if vendors are complying with the city's "anti-plastic" ordinance, an official said Tuesday.
Blenda Almo, officer-in-charge of the Laoag City Public Market and Commercial Complex, said Tuesday the team will conduct surprise inspections in markets as part of the strict implementation of the BAYONG (Bring Along Your Own Natural Greenbag) ordinance, which regulates the use of plastic bags and totally bans the use of styrofoam packaging.
To avoid inconvenience, marketgoers have been advised to bring their own eco-bags or containers when they plan to buy fish or meat products.
Following a massive information drive about the ordinance, Mylene Pascual, city environment and natural resources officer, reiterated that business establishments that violate the ordinance will be penalized as follows: PHP3,000 fine and a stern warning for the first offense; PHP4,000 fine and issuance of a closure order for three months for the second offense; and a fine of PHP5,000 and cancellation of business permit for the third offense.
An individual who violates the ordinance will also be fined PHP500 for the first offense; PHP1,000 fine plus a stern warning for the second offense; and PHP3,000 fine and/or imprisonment of not more than six months or both depending upon the discretion of the courts for the third offense.
The ordinance prohibits business establishments to sell or use plastic bags and styrofoam for packaging purposes. However, wet goods are excluded in this ordinance provided that it is limited. Environment-friendly "green" bags and paper bags are highly recommended as the alternative solution for packaging or wrapping dry goods.
Through the strict implementation of the ordinance, the environment officer hopes to address the negative impact of the excessive use and disposal of hazardous wastes that result in environmental degradation, flooding, and sanitation problems in the city.
The city will also give incentives using the fines collected for every apprehension. The distribution of the reward are as follows: 50% to the city government, 25% to the apprehending organization or person as a "trust fund" and the other 25% to the informer. (PNA)