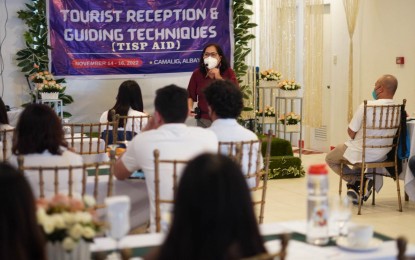 LEGAZPI CITY – At least 40 personnel employed in different tourism-related establishments in Camalig town, Albay province are training on customer service efficiency through a forum facilitated by the Municipal Tourism and Cultural Heritage Office (MTCHO).
Tim Florece, Camalig information officer, in an interview on Tuesday, said the Tourist Reception and Guiding Technique Forum started Monday and is being held until Wednesday. The seminar is attended by personnel of hotels, restaurants, tourist attractions, and transport sectors.
"The three-day event was sponsored by the Department of Tourism in Bicol (DOT-5) and aims to improve the customer service effectivity of tourism and business staff, most especially the importance of friendly and informative accommodation for tourists and locals," Florece said.
After a two-year hiatus due to the pandemic, he said the town's tourism industry is gradually booming again.
"The local government unit (LGU)-Camalig continues to conduct skills enhancement training that will further boost Camalig's tourism arm and local economy. We want to improve the services that our town can offer, this training is customer, client-centric, they will learn how to properly serve the customers and the attitude that is expected of them," he said.
Florece said tourist guides for different tourist destinations will also undergo training.
Based on the record of MTCHO, at least 202,770 same-day visitors visited the various Camalig attractions in the third quarter of this year.
Camalig has six tourist/attraction areas -- the Hoyop-Hoyopan Cave in Barangay Cotmon, Quituinan Hills in Barangay Tinago, Sumlang Lake in Barangay Sumlang, Solong Eco-Park in Solong, Quituinday Green Hills in Quituinday village, and El Miro De Shei Integrated Farm in Barangay Salugan -- along with St. John the Baptist Parish and colonial houses at the Poblacion areas. (PNA)