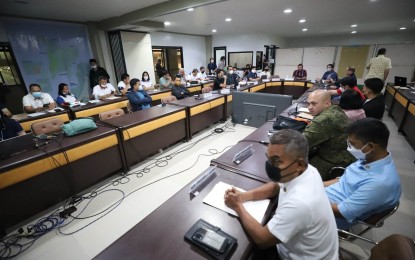 ILOILO CITY – The National Commission on Indigenous Peoples (NCIP) on Tuesday released the approved Certification Precondition (CP) to the National Irrigation Administration (NIA) that will allow the conduct of the detailed engineering design for the Panay River Basin Integrated Development Project feasibility study.
The certification is a renewal of the previous CP, issued on June 25, 2018, covering 26,800 hectares in 20 villages in Tapaz town that are located inside the ancestral domain of the Panay-Bukidnon Indigenous Cultural Communities/Indigenous Peoples.
"That is the project they see that will be able to solve the problem of flooding in Panay and Capiz," Iloilo City Mayor Jerry Treñas said in an interview after a special meeting of the Infrastructure Development Committee (IDC) of the Regional Development Council.
The CP is NIA's compliance to the Free and Prior Informed Consent and certification that the community has given its consent for the conduct of the study.
NIA was also asked to justify why it was not able to complete the feasibility study despite the issuance of two previous CPs and if it can already complete the activity with the release of the latest extension.
Once the study for the project is completed, NIA will proceed to look for funding.
The project will provide water for irrigation and potable water for Roxas City and Capiz, according to Treñas, also the IDC chair.
The Department of Public Works and Highways (DPWH) has also proposed a flood control project at the Panay River.
"It's a bigger floodway compared to the floodway in Iloilo City, wider and longer," Treñas said.
The two projects will benefit Capiz, which is always at risk for flooding.
During Severe Topical Storm Paeng two weeks ago, nine people died due to drowning after most of the municipalities were submerged.
DPWH-6 rehab projects
The IDC of the Western Visayas Development Council likewise endorsed the PHP1.782-billion proposed rehabilitation projects of the DPWH.
Treñas said they fast-tracked the endorsement since the deliberation of the General Appropriations Act for 2023 is on its final stage.
"The bulk will go the identified rehabilitation projects in Antique," he said.
In his visit to Antique last week, President Ferdinand R. Marcos Jr. ordered that the repair of the province's damaged infrastructures be prioritized.
The DPWH told the President that Paeng caused at least PHP1 billion worth of damage to the region.
The endorsement will be sent to the Office of the President, Senate President Juan Miguel Zubiri, House Speaker Martin Romualdez and the DPWH central office. (PNA)