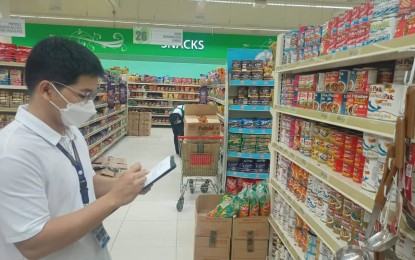 SAN JOSE DE BUENAVISTA, Antique – The Department of Trade and Industry (DTI) provincial office here on Tuesday said vendors in the province have so far been complying with the automatic price ceiling (APC), which was put in place following the onslaught of Severe Tropical Storm Paeng.
DTI Antique officer-in-charge Lynna Joy Cardinal said in an interview Tuesday they have been conducting price monitoring in 18 municipalities since Nov. 7 with the help of their Negosyo Center councilors.
"Per our monitoring, the major retail stores in Antique are also compliant with the APC," Cardinal said. The province remains under a state of calamity due to the effects of Paeng.
Cardinal said retail stores have been provided with prices of basic and prime commodities to help them comply with the APC.
Cardinal also assured the public that there is a sufficient supply of basic and prime commodities in the province.
"Unlike during the first week of November when the supply of noodles and sardines were highly in demand and almost running out because of the various relief operations, there is sufficient supply now," Cardinal said.
She said the DTI Regional Office has also requested, through the Office of the Civil Defense, a Navy ship to transport goods from Iloilo province to Antique after Paeng left major routes impassable.
"The Navy ship has so far transported already the goods three times with the latest (being) yesterday, Nov. 14," Cardinal said.
Iloilo City is a center of trade and commerce in Western Visayas where most suppliers of the basic and prime commodities in Antique are based. (PNA)