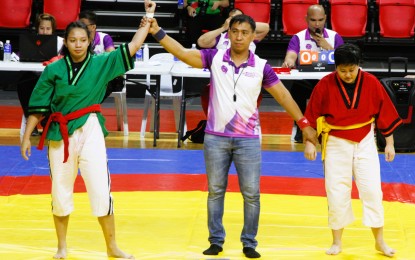 MANILA – Grace Loberanes of the Philippine Navy scored a 3-1 victory over Kimberly Joy Bondad of Albay to capture the gold medal in traditional wrestling's 57-kg category of the 8th Women's Martial Arts (WMA) Festival at Rizal Memorial Coliseum in Manila on Tuesday.
The 31-year-old Bohol native, who was a bronze medalist in the Vietnam Southeast Asian Games in May, has been with the Philippine team for the past nine years.
"I always give my best in every match," Loberanes said.
Sharing the limelight with Loberanes were Charmel Gem Angana of Taytay and Mary Jhoy Cacal of Philippine Army.
Angana outclassed Johnna Marie Maturan of Mandaluyong, 10-0, in the final of the freestyle 53-kg Cadets, while Cacal defeated Ginalyn Reyes of Sta. Rosa, Laguna in the 58-kg Classic Senior category.
"I was nervous because my opponent is older and bigger than me," said Angana, who is being guided by her father, Jimmy, a former national athlete who is now part of the Philippine team's coaching staff.
It was Angana's fourth win following her victories in the National Open in March, May and August.
Other winners were Hannah Khariz Alipala (57kg) and Xylem Villanueva (68kg), Cadets; Amber Arcilla (57kg), Junior; and Levie Espuerta (68kg), Senior, in traditional wrestling; Kristine Joy Oberez (52kg), M-Jhay Cater (58kg) and Allah Rose Gavalez (63kg) in Classic Cadets; Nashica Tumasis (53kg), Junior, and Jiah Pingot (53kg), Senior, in freestyle wrestling; and Cathy Vergara (52kg) and Jean Mae Lobo (63kg) in Classic Senior. (PNA)