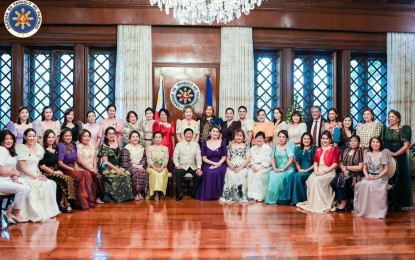 MANILA – President Ferdinand Marcos Jr. on Tuesday called on the Filipina legislators to break barriers for women and help the administration end the violence against women.
Marcos made the call during the oath-taking of the newly-elected officers of the Association of Women Legislators Foundation, Inc. (AWLFI) at the President's Hall of Malacañan Palace in Manila.
"As you take your oath, remember the pledge that you will carry throughout your role as women leaders who will break barriers not only for your fellow legislators, but for every Filipina as well," Marcos, as quoted by state-run Radio Television Malacañang (RTVM), said.
"It is my hope that you will continue to support this Administration in preventing and eliminating violence against women and children, fostering a gender-sensitive form of governance, and promoting equal opportunity and employment for women," he added.
The Filipina solons who took oath before Marcos were Representatives Yedda Marie Romualdez (Tingog Party List, AWLFI chairperson); Linabelle Ruth Villarica (Bulacan 4th District, AWLFI president); Florida Robes (San Jose Del Monte City, AWLFI senior vice president); Emmarie Ouano-Dizon (Mandaue City, AWLFI internal vice president); and Ma. Lucille Nava (Guimaras, AWLFI external vice president).
The AWLFI, composed of 86-strong lady lawmakers in the House of Representatives, is a permanent bloc that works to advance the women's legislative agenda by lobbying for the passage of measures aimed at empowering women from all sectors of society, as well as protecting the welfare of children in communities.
Since its inception in 2010, the AWLFI has already filed nearly 1,400 bills on e-governance, electronic commerce, telemedicine services, urban development and housing, fiscal policies, food security, education, health, disaster resilience, labor and employment, social services, protection against discrimination and abuse, and urgent amendments to existing laws.
Marcos hailed the AWLFI members for pursuing social programs, which include fund-raising activities, relief operations and breast cancer awareness.
Assuring the AWLFI of his strong support to its advocacies, Marcos expressed hope that they would also support his administration's efforts in protecting and promoting the welfare of Filipino women and children.
"These endeavors will serve as the building blocks of our dream to build a more equitable society. After all, we can only claim that we are truly progressive if everyone can be assured of a brighter future," Marcos said.
"I am confident that your pledge will translate into concrete actions, borne out of our collective promise to uplift the lives of every Filipino," he added. (PNA)