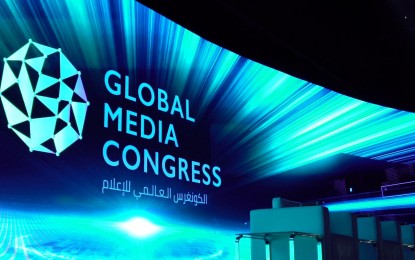 ABU DHABI, United Arab Emirates – The inaugural Global Media Congress (GMC), the first in the Middle East, opens Tuesday, bringing together media industry stakeholders, tech firms, and journalists worldwide.
State-run Philippine News Agency (PNA) is among the participants in the three-day event, with News and Information Bureau Assistant Director Lee Ann Pattugalan leading the five-man delegation.
Organized by ADNEC Group in partnership with PNA's partner agency, Emirates News Agency (WAM), the GMC will see an exhibition and specialized conference workshops that focus on the latest developments in and future of the media sector.
With the theme "Shaping the Future of the Media Industry", the event provides a platform to highlight the position of mass media in the Middle East whilst engaging a global audience, driving innovative visions and collaborations that will advance the sector.
"The media industry has also come a long way and media practitioners have to keep on gaining knowledge through training and seminars to keep them abreast of the latest updates in the industry," Pattugalan said.
She also thanked the UAE and WAM for inviting the PNA to be part of the event.
"WAM has been a very significant partner of our agency. WAM and its partner agencies deserve accolades for sponsoring this event which we see as very important for the development of journalism and the media industry," she said.
The conference and its range of workshops will offer an interactive platform for journalists, tech firms, content creators, digital marketing professionals, streaming giants, entertainment executives, regulators, and key media stakeholders.
The opening ceremony included a dance performance, singing of a youth choir, and a brief history of global media from conception to the present day.
WAM's Director-General Mohammed Jalal Al Rayssi even had a trip into the Metaverse.
Thousands of media professionals packed the halls at ADNEC to witness keynote addresses from speakers including Shamma bint Suhail bin Faris Al Mazrui, Minister of State for Youth; Michael Peters, Group Chairman, Euronews; and Ziad Khammar, COO of Digital Media Services.
Among the topics discussed include Investments in Media and Media Opportunities in the Metaverse. (PNA)