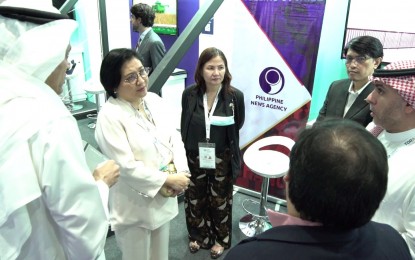 ABU DHABI, United Arab Emirates – The participation of state-run Philippine News Agency (PNA) at the inaugural Global Media Congress (GMC) this year highlights the importance of the media industry in the Philippines and the United Arab Emirates (UAE), Philippine Ambassador to the United Arab Emirates Hjayceelyn Quintana said.
"I am pleased to see the Philippine News Agency (PNA) taking part in the UAE's Global Media Congress (GMC) this week, as media is vital in the ever-evolving relationship between the Philippines and the UAE," Quintana said in a statement.
The envoy, who visited the PNA booth at the GMC on the event's opening day, said the depth of the relationship between the two countries continue to flourish from its establishment 48 years ago, founded on the strong presence of Filipinos in the Middle East nation.
About 1 million Filipinos live and work in the UAE, the third highest number of migrants next to India and Pakistan, according to Quintana.
"Our cooperation continues to expand and cover new areas such as knowledge and digital economy, renewable energy, and now media.
Following my interactions with WAM, the presence of PNA at this pioneering GMC highlights the importance of media in our respective countries, and how countries need to exchange best practices to communicate better with our respective stakeholders," she said.
PNA's participation to the GMC bolsters the agency's intent to reach out to overseas Filipinos working and living not just in the UAE but in the Gulf region.
It also opens up opportunities for fresh news cooperation and exchange with other agencies.
In February 2019, PNA and WAM signed a memorandum of understanding (MOU) in Dubai, aimed at strengthening professional ties and cooperation in the field of news exchange.
The MOU, signed on the sidelines of the 2019 World Government Summit, was the first for PNA with an Arab news agency.
"The GMC is the latest example of how the UAE leadership continues to reach out to the world to provide a platform for countries to work together on finding new approaches to address global issues and concerns," Quintana said.
On the sidelines of the event, Quintana also met with Mohammad Jalal Al Rayssi, Director-General of WAM, commending him for the event's success.
Among the agencies that visited the PNA booth were the Agenzia Nazionale Stampa Associata (ANSA) from Italy and Saudi Arabia's Arabsat, one of the world's top satellite operators for family-friendly media content. (PNA)