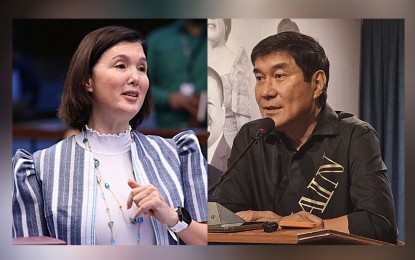 MANILA - Senators Pia Cayetano and Raffy Tulfo early Wednesday passionately discussed the wearing of a face mask during the floor deliberation on the proposed budget of the Department of Tourism.
Tulfo, who had recently returned from a trip to Europe, suggested that DOT should coordinate with concerned agencies regarding the wearing of face masks as it "turns off" tourists.

This was after he took notice of all airport personnel wearing face masks while receiving the arriving passengers. He said people in many parts of Europe and even in the United States are no longer wearing face masks.
"Dun po sa face mask, nakaka-turn off po pagdating sa airport. Halos lahat ng mga kawani doon sa airport naka-facemask at pumunta po kayo sa mga iba't ibang mga lugar sa Europe, sa Amerika, wala na pong nagpe-facemask doon (Regarding the face mask, it is a turn off when you arrive at the airport when you see all employees wearing them. In many parts of Europe, in America, no one wears face mask anymore)," Tulfo told Senator Nancy Binay who sponsored the budget of the DOT.
Binay mentioned that face mask-wearing is optional and voluntary both indoors and outdoors based on Executive Order Nos. 3 and 7 issued by President Ferdinand R. Marcos Jr.
"Itong mga kababayan natin sa (Our people in the) airport, I guess to protect themselves, eh tinutuloy pa rin po nila yung pagsuot ng (they chose to continue wearing) face masks)," Binay said.

Senator Pia Cayetano, who was scheduled to defend the 2023 budget of the Department of Health, came in and told Tulfo that other Southeast Asian countries like Singapore and Thailand are also currently not requiring the wearing of face masks indoors and outdoors.
Nevertheless, people continue to wear face masks to protect themselves.
"But in the restaurants, in the airport, naka-mask sila (they wear mask) and I think it is an Asian thing. We're very careful," Cayetano said pointing out that it is a human right to whether wear or not, a face mask. It is their choice," Cayetano said.
She added that it is imprudent for DOT to come up with a plan to have its people in the airport take off their masks.
"I do not believe, having represented the health sector for many years, I don't think that we should consider and I don't think it is a burden of DOT to come up with a plan to have our people who are seen in the airport or in the tourist industry take off their masks," Cayetano said, adding that she prefers wearing a mask, especially when not isolated from people.
Tulfo clarified though that he was not pushing to require people (in the airport) to not wear face masks and said that he understands that it is now voluntary.
"I'm not telling na yung mga taong nasa airport kailangang alisin na nila ang kanilang (that the poeple in the airport need to remove their) face masks because that's their right," Tulfo said.
Tulfo said that is what he was trying to say, that wearing face mask is turn off, adding that maybe the DOH, the DOT could discuss applicable regulations so tourists can still enter the Philippines without being disappointed.
Tulfo clarified that his concern is not the responsibility of the DOT but he was hoping that it could coordinate with other agencies concerned and discuss the matter.
After a few interpellations, the DOT and its attached agencies' proposed PHP3.759 billion 2023 budget was eventually approved by the Senate. (PNA)