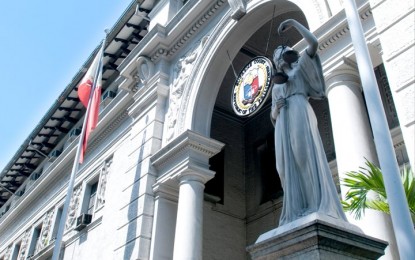 MANILA—The Supreme Court (SC) has turned down the petition of a former town mayor in Cebu province convicted of graft that she be allowed to serve her sentence under house or hospital arrest.
In an 11-page resolution recently published on the SC's website, the high tribunal's Third Division upheld the ruling of Sandiganbayan denying the house arrest petition of former Aloguinsan town mayor Cynthia G. Moreno.
In June 2014, the anti-graft court sentenced Moreno and seven others to a minimum of six years up to 10 years of imprisonment for graft charges in connection with the irregularities in the procurement of PHP1.1 million worth of construction supplies without public bidding. The decision became final and executory in 2019.
Seeking relief from conviction, her lawyers asked the anti-graft court that Moreno be placed under house arrest while being supervised by the local Bureau of Jail Management and Penology officers or of the Department of Justice instead of serving her term in a penal institution.
The Sandiganbayan denied the petition as Moreno failed to show medical records that she is suffering from any health condition and said the defense's apprehensions "rests on conjectures and speculations devoid of proof."
The anti-graft court also said the grants of house/hospital arrest to former president Gloria Macapagal-Arroyo and Joseph Estrada were not judicial precedents applicable to her.
The SC upheld the ruling of Sandiganbayan when it said it has "no discretion to allow petitioner to serve her sentence by rendering community service, more so, under home care/house arrest,".
The high tribunal resolution penned by Associate Justice Henri Jean Paul Inting, also said there are no rules that could allow her to serve her sentence under house arrest.
"By no stretch of the imagination could this case be taken as a judicial precedent allowing a convicted criminal, such as a petitioner to serve his or her sentence outside a penal institution due to poor health conditions," the high court said.
"(T)here was nothing capricious, whimsical or even arbitrary in the Sandiganbayan's denial of the petitioner's motion" the court added. (PNA)