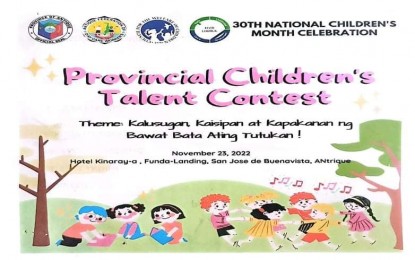 SAN JOSE DE BUENAVISTA, Antique – Community-based interventions will help develop the child's potential and further curb the number of children in conflict with the law (CICL) in Western Visayas.
Anna Karla Villanueva, Department of Social Welfare and Development (DSWD) Regional Office 6 for the Juvenile Justice System and Welfare Committee focal person, said on Tuesday that Antique has the lowest number of CICL cases in Western Visayas and the second lowest for children at risk because of the various community-based interventions.
"Community-based interventions such as information and education campaigns as well as projects undertaken that could engage the children towards their wholesome development are a big help," she said during a virtual press conference here.
She said that Negros Occidental has the highest CICL and children at risk with 221 and 344 cases, respectively, for the third quarter of 2022.
Jason Alagos, a social worker at the Antique Provincial Social Welfare and Development Office (PSWDO), said the province has recorded 25 CICL for the third quarter of this year.
"Most of the cases of the CICLs in Antique are theft, rape and physical injury," Alagos said in an interview on Wednesday.
He added that there were 11 cases of children at risk, or children who have violated their respective municipal ordinances such as curfew, anti-mendicancy, or had been called by their school guidance counselors for disciplinary actions.
"The PSWDO has enhanced its collaboration with its municipal counterparts where there are also lectures among parents to enhance their knowledge on how to properly discipline their children," Alagos said.
The Antique PSWDO will be celebrating the 30th National Children's Month with a talent contest to be participated in by daycare children from the various municipalities of the province on Nov. 23 at Hotel Kiniray-a here. (PNA)