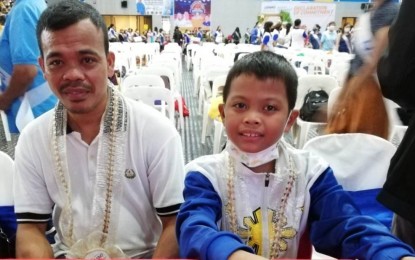 LEGAZPI CITY – Three days after the victory of Bince Rafael Operiano, the nine-year-old boy from Oas town, Albay province who emerged champion in the recently concluded 6th Eastern Asia Youth Chess Championship in Bangkok, Thailand, is now back to his schooling and other regular chores in his hometown.
Ben Operiano, father of Bince, in an interview on Wednesday, said many people have been visiting their residence in Oas to meet and congratulate his son in person.
"Mang Ben" recounted the struggles that he and his son had to go through that eventually led to Bince's winning the top plum in the Bangkok chess championship.
"I have to admit that I made a lot of sacrifices for my cravings. I stopped drinking liquor, quit smoking, and being a cockfighting aficionado to save money and give quality time for the training of my son," he told the Philippine News Agency.
He said he had to gather courage and ask people for assistance, whether in cash or other forms, for Bince's travel to Bangkok.
"I needed also to be shameless from soliciting assistance from people who signified willingness to help my son. I literally became shameless," Mang Ben said.
He noted that due to limited funds, his son traveled alone to Thailand.
"The money that we first raised was only enough for his fare. So Bince went alone to Bangkok. Then I just followed him on a separate flight after I raised an additional amount," he said. "Because of the help of our 3rd District Representative Fernando Cabredo and Oas Vice Mayor Hector Loyola, I was able to buy a ticket and follow my son in Bangkok, Thailand with a very limited budget."
Mang Ben said he is very proud of his son for becoming a chess champion at an early age and for remaining humble despite his feat.
"I always tell my son that poverty must not be a hindrance to his dream. Even if we are poor, we have to fight the hardships by having a strong heart and do not forget to thank God," he said.
Bince started to play chess at age five as bonding time activity with family members and friends. He first joined a tournament in 2020 and won a kiddie championship at six years old.
In Bangkok, Mang Ben said Bince braved the first game "with no parent around to cheer him on. He felt pressured and even lost to his opponents in the first sets of the tournament."
"But my son started winning when I arrived and watched and cheered for him," he added.
Bince prevailed in the final game sets until he was declared overall champion in the Asian chess championship, besting more than 20 opponents from different countries. (PNA)